Looking good and feeling comfortable don't always go hand in hand, unfortunately. When it comes to clothes, you'll basically see two types of people: those who want to look sharp no matter what, and those who want to feel comfortable first and foremost. Luckily more and more eco-friendly brands are combining the two. Here are a few companies who bring you the best sustainable loungewear that make you look good in the comfiest way.
If you want to pick your own brands, there are a few things you can check to make sure your loungewear is sustainable. If you prefer not to do your own research: simply scroll down to my favorite brands below. These are eco-friendly for sure.
How to check a sustainable loungewear brand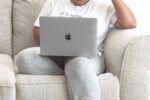 The most obvious thing to check is the fabric you choose. Eco-friendly brands prefer natural fibers that have a low impact on the planet, like bamboo, organic cotton, linen, wool, hemp, and lyocell (or Tencel). You can also check certification labels like GOTS or OEKO-TEX. These labels guaranty you that there are no toxins in the fabrics you put on your body.
Many sustainable brands have dedicated pages in their web shops, explaining what they do to keep the earth clean and happy. You can check if they commit to using less water, chemicals, and energy. If you care about fair trade and work conditions, see if you can find where and how your clothes are made.
Choose pieces of loungewear that you'll wear outside of your home or gym as well. A beautiful hoody or sweater can be stylish enough to combine with your everyday clothes or work outfits. This way you need fewer clothes and buying nothing is still the most sustainable lifestyle of all. You can also wash your loungewear less often. Natural fibers don't hold on to odors that much. Simply put them on a hanger and let it steam while you shower.

When you buy products using links on this website, I may get a small amount of money. It will cost you nothing extra and opinions are always my own! But you would help me keep this blog going and you would make me happy. Thank you!
BackBeat Co.
You could consider most of the BackBeat Co. collection to be loungewear. The clothes are cool, young and fresh, but they all look super comfy too. Clean, simple lines yet never dull. BackBeat Co. is a Californian family business that makes organic cotton surf hoodies and matching jogging pants. Among other things.
BackBeat Co. says they put their values before their profits. They want their manufacturing process to be ethical and social. Not just by using organic fabrics, but also by providing the right working conditions and by using sustainable packaging.
Made Trade
At Made Trade, you'll find many unique eco-friendly brands. And for your sustainable loungewear, it's no different. You can choose the most important values to you, like whether brands are vegan, fair trade, or women of color owned.
You'll find the most comfortable pieces here, like the ones from silky soft bamboo lyocell. You might get hooked and decide never to wear anything less comfy ever again. Added bonuses: Made Trade is a 1% For the Planet member and ships your purchases carbon neutral.
tentree
Sustainable loungewear from tentree will give you precisely what you need for your eco-friendly lifestyle. This brand believes in Earth-First apparel and feels responsible for saving our planet. That's why tentree uses eco-friendly materials like recycled polyester, organic cotton, wood pulp, hemp, and Tencel.
In honor of their name, tentree plants ten trees for everything you buy from them: what a superb way to compensate for your carbon emissions. At the time I write this, tentree had planted 51,531,635 trees. You read that right: we are over 51 million trees richer due to tentree and their conscious costumers.
Be happy in your favorite sustainable loungewear
If you want to read some more about sustainable fashion, I recommend How to find fair fashion to fit your eco-friendly lifestyle. Enjoy your me-time or your workout in your favorite sustainable loungewear. No matter what you do in your comfy clothes, please stay safe and healthy. Happy chillin' the eco-friendly lifestyle way!