Last updated on September 13th, 2023 at 03:59 pm
You found the fun page! See the current deals and discounts from eco-friendly brands and sustainable companies that partner with Wasteless Planet. We handpicked these brands to match our values. So you'll get the best sustainable products or services for the best price.
Refresh your page to be sure you have the latest deals and discounts. Sometimes your browser shows the previous page, unless you refresh it.
Some offers are time-sensitive. But some discounts are valid throughout the year because they are special codes exclusively for Wasteless Planet supporters. Browse your favorites and remember our motto: buy nothing or buy green!
Get the things you need for less money
If you're looking for some gift inspiration, I recommend you check out The best eco-friendly gift ideas for everybody. You'll find hand picked presents tailored to personalities and interests. Or read Great gifts that last: sustainable subscription boxes if you prefer recurring gifts. See anything you like there? Don't forget to bookmark this page and come back to to see if you can do your sustainable shopping at a discount.
When you buy products using links on this website, I may get a small amount of money. It will cost you nothing extra and opinions are always my own! But you would help me keep this blog going and you would make me happy. Thank you!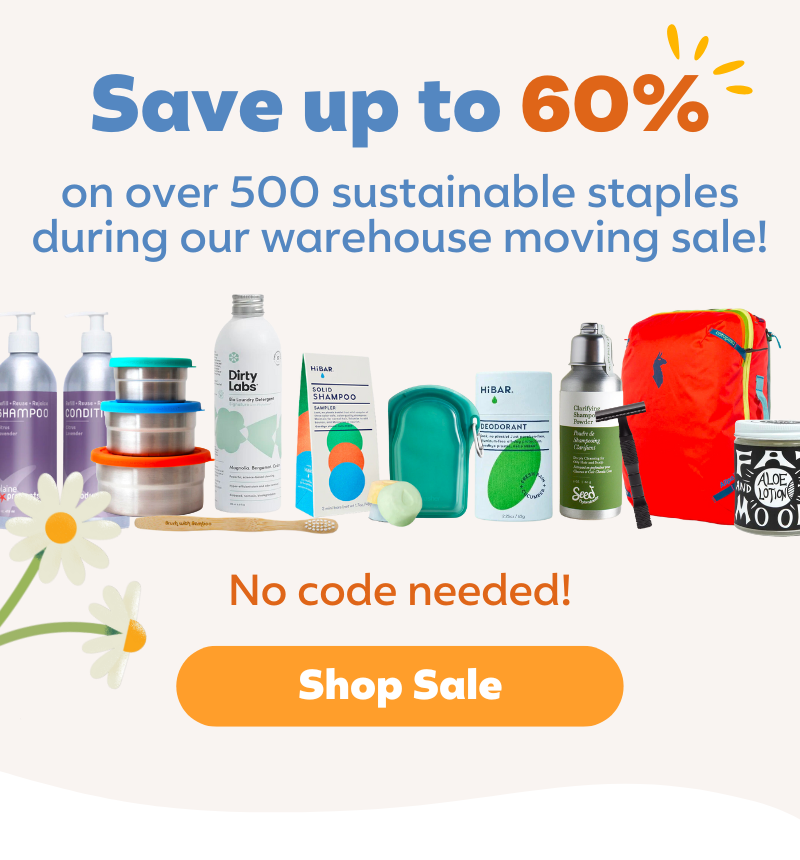 EarthHero | This is by far the biggest sale EarthHero's had. Your one-stop eco-friendly online store is moving to another warehouse. And you can take advantage because EarthHero loves having to move a lot less stuff. That's why you get up to 60% OFF selected items. From clothing and accessories, to baby items and more: find your sustainable favorites. You don't even need a code.
Permanent Wasteless Planet special discounts
Everybody loves a good bargain. Here at Wasteless Planet, a deal is only a good one, if it's green. That's why I'm happy to give you special discount codes that you'll only find here. Dedicated offers from handpicked eco-friendly brands and sustainable companies, in alphabetic order.
EarthHero | Forget Amazon. Get acquainted with EartHero: a one-stop-shop for your eco-friendly needs. From clothing and accessories, to baby items and more: find your sustainable favorites. Click here, and you'll get 10% off with the code BIANCA10. That's me, in code, I love it. You can't use it on sale items or pair it with other coupons. The code is valid sitewide, except for gift cards, TerraCycle boxes, and Naturpedic products.
Jungle Culture | British designers and Asian artisans joined forces to create beautiful and sustainable products and zero waste essentials. How about those organic coconut bowls or the cute bamboo cutlery? Or green up your beauty routine with the Jungle Culture safety razors and shaving soaps. This brand guarantees fair treatment of workers and complete organic manufacturing. And you can get 10% OFF because you visit this page. Use the code WASTELESS10 at checkout.
TomatoInk | Your eco-friendly home office needs sustainable office supplies. Find recycled printer ink cartridges and toners for various brands at TomatoInk. It's much cheaper than buying official brands while keeping high quality. Take another 10% off your purchase by clicking here and using the code WASTELESS.