You found the fun page! See the current deals and discounts from eco-friendly brands and sustainable companies that partner with Wasteless Planet. We handpicked these brands to match our values. So you'll get the best sustainable products or services for the best price.
Some offers are time-sensitive. But some discounts are valid throughout the year because they are special codes exclusively for Wasteless Planet supporters. Browse your favorites and remember our motto: buy nothing or buy green!
If you're looking for some gift inspiration, I recommend you check out The best eco-friendly gift ideas for everybody. You'll find hand picked presents tailored to personalities and interests. See anything you like there? Don't forget to come back to this page to see if you can get the gifts for a discount.
When you buy products using links on this website, I may get a small amount of money. It will cost you nothing extra! But you would help me keep this blog going and you would make me happy. Thank you!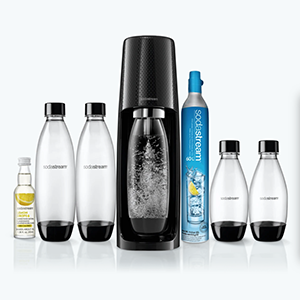 SodaStream | Save hundreds, if not thousands of disposable plastic bottles: stop buying soda, start making your own! SodaStream makes it easy for you to make your water sparkle. And with a few dozens of flavors to choose from, you can turn your sparkling water into delicious soda's. Your home made drinks in cute reusable bottles: it doesn't just save plastic waste, it saves you money too. This Cyber Week Sale you get the Fizzi Starter Pack from $89,99 for only $49,99. And you can grab the Fizzi Hydration Pack that's $131,96 for only $91,96.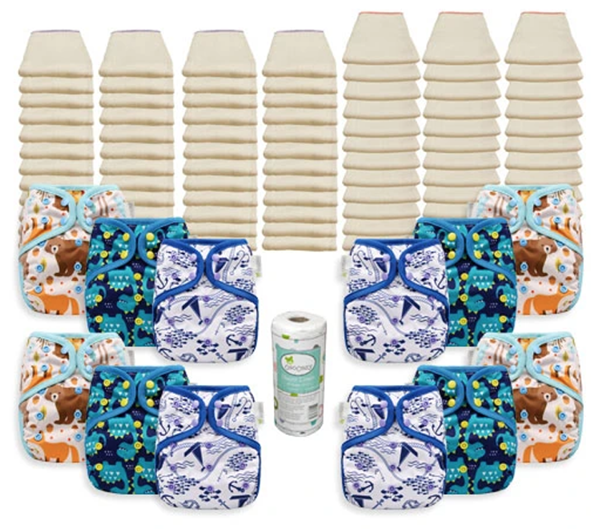 ClothDiaper | Have or give a sustainable baby routine with the cutest reusable diapers and reusable baby wipes. At ClothDiaper you get no less than 20% off all OsoCozy products (what's in a name, right?!). Find your favorite colors and prints at ClothDiaper and don't forget to use the code BlackFri20 at checkout. Valid through December 4th.
GoSun | With GoSun you can light, charge, purify water, cool, freeze, and cook with nothing but the power of the sun. Are you ready for some Cyber Monday Deals that take up to hundreds of dollars off your solar favorites? Discounts go up to 60% off on selected bundles and kits. No code required. If you want to know more about GoSun, read this article: How to prepare for power outages: light, freeze and cook with solar energy.
Grund | Feel the softness and luxury of 100% organic cotton towels, sheets, bathrobes, duvet covers, throws, or bathrobes. The sustainable American brand Grund brings you the finest materials and most sophisticated colors. Indulge yourself or spoil a loved one with sheer luxury for everyday use. Take a minimum of $20 off every purchase with the code 20DOLLARS. If you spend over $150 you can take $50 off with the code 50OFF. If you buy for at least $300 you get no less than $100 off with the code 100OFF. And you can save a staggering $200 on all $600 or more purchases with the code 200OFF.
Green Kid Crafts | This eco-friendly brand makes learning heaps of fun. Get the cool subscription boxes at big discounts for the holidays. You can take $15 off any 3-month subscription, no less than $25 off any 6-month subscription and a staggering $50 off any 12-month subscription. And as a bonus, you get a FREE gift. You don't need a code, just click here, find the right subject for the right age and spread joy for months to come. These offers are valid until December 25th.
Permanent Wasteless Planet special discounts
Everybody loves a good bargain. Here at Wasteless Planet, a deal is only a good one, if it's green. That's why I'm happy to give you special discount codes that you'll only find here. Dedicated offers from handpicked eco-friendly brands and sustainable companies, in alphabetic order.
FarmBox Direct | Have fresh, organic food delivered to your doorstep with Farmbox Direct. Enjoy toxin free quality fruits and vegetables. As a supporter of the Wasteless Planet community you get special treatment. Click here, use the code Wastelessplanet10 at checkout, and get 10% off your purchase.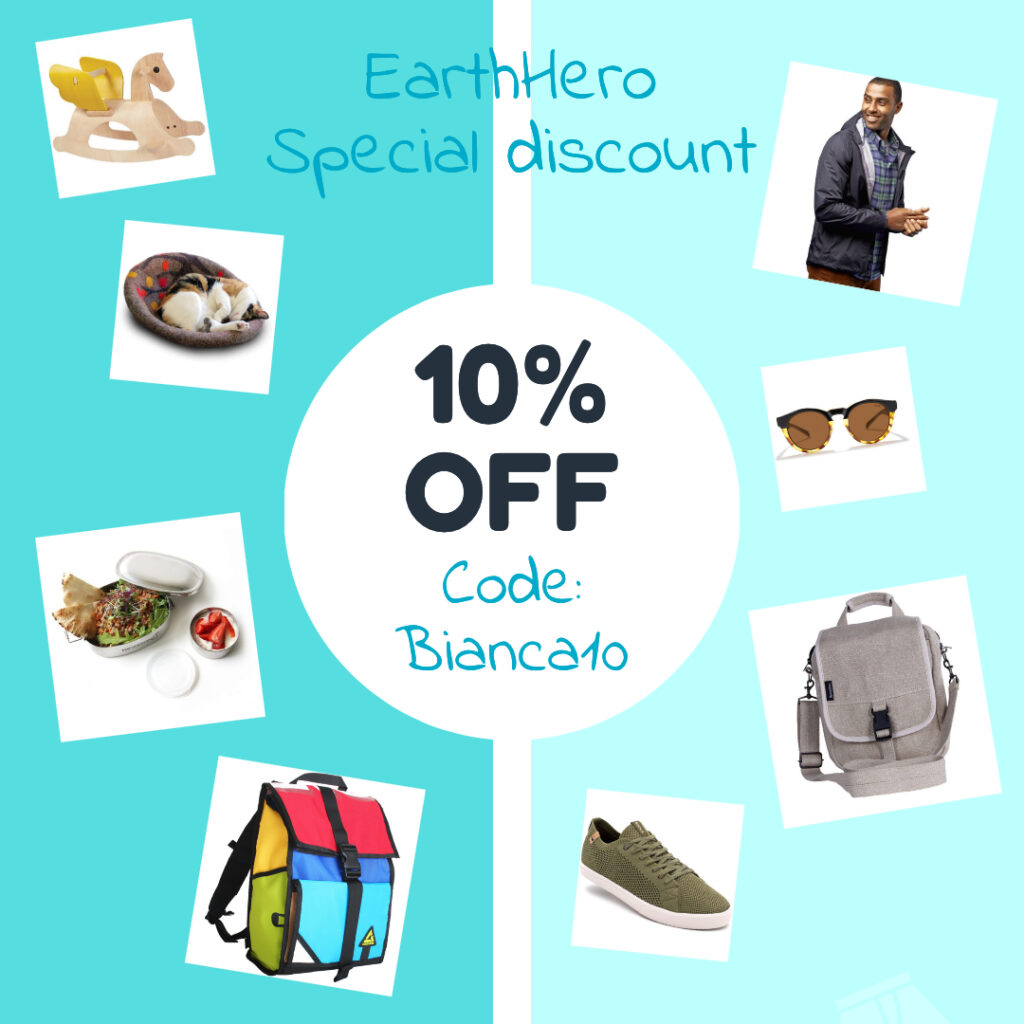 EarthHero | Forget Amazon. Get acquainted with EartHero: a one-stop-shop for your eco-friendly needs. Click here, and you'll get 10% off with the code BIANCA10. That's me, in code, I love it. You can't use it on sale items or pair it with other coupons. The code is valid sitewide, except for gift cards, TerraCycle boxes, and Naturpedic products.
TomatoInk | Your eco-friendly home office needs sustainable office supplies. Find recycled printer ink cartridges and toners for various brands at TomatoInk. It's much cheaper than buying official brands while keeping high quality. Take another 10% off your purchase by clicking here and using the code WASTELESS.