Last updated on October 24th, 2022 at 04:53 pm
If this year has taught us anything, it's that anything can happen. Everything we take for granted can change in a heartbeat. Pandemics, fires, floods. We can't stop it from happening. But we can prepare ourselves. Since September is National Preparedness Month, I want to share how to prepare for power outages with GoSun.
GoSun provides everything you need to light, charge, cool, freeze, cook, and purify. And it uses nothing but the power of the sun. Yep, all their appliances are solar-powered. But but but what if it's night? That's when you use the devices that connect to power banks. Of course, you charged those during daylight. In other words: you prepare for hours without sun. It's Preparedness Month, after all.
Small business with big ambitions
Before I tell you about GoSun's solar ovens, fridge/freezer, lights, water heater/purifier, and power banks, let's take a closer look at the company itself. GoSun is still a small business. Yet it's been highly innovative with their solar equipment. It all started in a small suburban garage in Cincinnati, Ohio. The garage of founder Patrick Sherwin.
Sherwin, a solar energy expert, had a light bulb moment taking apart a solar water heating device. He looked at the vacuum tubes and thought they could just as well be used to reheat his lunch. A few years later, he's designed a complete solar kitchen used at camping sites and disaster areas worldwide.
GoSun gives back

Since Sherwin was used to volunteering with communities that lack clean water and energy, it's no wonder his company still gives back. "We believe we should all do what we can, when we can," GoSun's website reads. "Since our inception, we've worked with dozens of nonprofit organizations to provide discounted solar cookers and other solar products to those that need them most."
Some of the causes GoSun supported are The Houston Food Bank, Operation BBQ Relief, The American Red Cross, and the California Community Wildfire Relief Fund. Just to name a few. They donated over a thousand units. And gave firm discounts to NGO's for over two thousand units. "We also donate money to Trees for the Future for every product sold to plant more trees. So far, we've helped plant over 40,000 trees," the company says.
When you buy products using links on this website, I may get a small amount of money. It will cost you nothing extra! But you would help me keep this blog going and you would make me happy. Thank you!
Now let's dive into the solar equipment GoSun has for sale. Mind you: I'll show you the individual units, but GoSun also sells impressive package deals. Pair your ovens or fridge with solar panels, lights, or water purifiers and get a discount on the total price. Talking about discounts: always check my special deals and discounts page to see if there are current coupons or codes you can use.
Solar cooking
Now let's begin with cooking. Sure, you can cook with wood, charcoal, or petrol. Here's the big plus of cooking with solar: no nasty fumes and smells, no pollution. And according to people who've tried GoSun solar ovens, the food's juicier and tastes better than with other outdoor cookers.
If you like to see how Sherwin managed with a cooking challenge using his own solar cookers, check out his 40 Days of Sunshine blog. But no need to take Sherwin's word on it. He's the boss, after all. Look at some other reviews further down this article when I get more specific on the various GoSun solar products.
GoSun Go: the most portable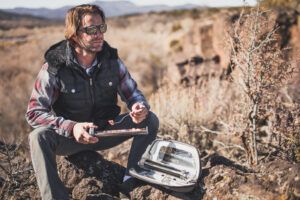 GoSun's smallest solar oven is the Go. It's ultralight, weighing only 2 pounds. It makes the Go live up to its name, making it very easy to take it anywhere. It can bake, roast, steam, and boil at a maximum temperature of 550 degrees Fahrenheit. Not in large quantities, of course. The Go can handle one to two meals at a time. It's the smallest, after all. The upside is: you can use it even when it's cold and cloudy. The Go solar oven comes with a cooking tray, a sundial, four silicone cook pans, a cookbook, and a cleaning brush.
Want to see it in action? The Titan Preparedness Channel made a GoSun Go review and tested it out on a fishing trip.
GoSun Sport: the fastest and most popular
This model may be bigger, but at 7 pounds, the Sport is still a portable solar oven. It's the best-selling GoSun cooker, and speed may have something to do with that. If you have direct sun, you can bake, roast, or steam a meal in just 20 minutes. Like the Go, the Sport can reach a max temperature of 550 degrees Fahrenheit. But it has room for two to three meals at once. The Sport comes with a cooking tray, solar dial, cookbook, and a cleaning brush.
MyRecipes gave the Sport a proper go and tried out several recipes with the solar oven. Watch how she feels about the results cooking hotdogs, biscuits, and chicken breasts.
GoSun Fusion: the hybrid that cooks in the dark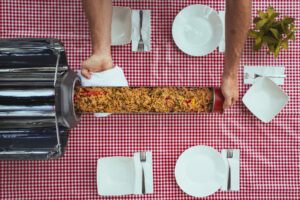 If you don't need a portable cooker, but prefer a sturdy one that feeds the whole family at once and even cooks in complete darkness, you need the Fusion. It's a hybrid, which means you can power it with the sun AND hook it up to 12Volt (your car, boat, RV) or a power bank. Part solar, part electric. That means the Fusion can bake, steam, or cook a full meal for four to five people day or night. At 14 pounds, it's still portable enough, but not to carry around all day. It comes with a powered cooking tray, power cord, and solar dial.
Brave Knight Media used the Fusion to bake potato wedges and to cook rice and beans. Check out the review with the rice and beans recipe.
Solar cooling
Let there be no more dripping water bottles and trying to keep your lunch dry. GoSun created an almost airtight cooler that doesn't need ice to keep your food and drinks cold. Meet the Chill. You can bring the Chill to temperature using electricity, 12Volt (car, boat, RV), power banks, or solar panels. Its insulation is high quality and keeps the inside air cold for hours.
GoSun Chill: the cooler that doesn't need ice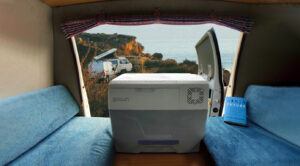 The Chill isn't just a cooler: it can even keep your frozen things frozen. But it's either-or. That's why big spenders used to buy two Chills: one for cooling and one for freezing. Those days are gone since GoSun introduced the Chillest. That amazing solar cooler has two compartments and you can set individual temperatures. You can control the temperature from -4 degrees Fahrenheit to 68 degrees Fahrenheit (-20 to 20 in Celsius). Now back to the Chill: it comes with a power bank. This helps you keep your cooler cold for longer and can be used to charge devices. At 28 pounds and another 2 pounds for the power bank, it's a good thing the Chill has wheels. Especially if you know, you can pack 40 liters of food in there. It comes with 3 USB ports and a cigarette lighter connection.
Not Trashy did a review about the Chill after she's had it for a year. See her pro's and con's about this cooler.
Solar water system

Clean drinking water is one of the main concerns when you're off-grid. GoSun developed a solar-powered water purifier that fits in your backpack: the Flow. Weighing less than three pounds, you can carry it with you with ease. It's not just great for unforeseen circumstances like a power outage. It could also be a lifesaver during camping trips. If you want to upgrade, you can add a foldable sink.
GoSun Flow: hot showers and purified drinking water
How thrilling it is to bring your hot showers with you on a camping trip in the wild? I know, I know. Camping is about being outdoors, not about luxury. But I sure love this kind of luxury. In contrary to camping, power outages are not voluntary. I'm sure you'll be happy with hot water now and then. Even better: the Flow uses solar power to purify water. That's right: with the Flow, you'll have clean drinking water wherever you are. According to GoSun, it filters out 99.99 percent of pathogens. How's that for peace of mind? The Flow comes with a solar panel, power bank, pump, water pouch, and filters to purify a thousand liters.
Solar lighting
Let there be light! Whether it's emergency lighting or cozy camping lighting, a solar-powered light is your friend. GoSun has a variety of lanterns that are good for both camping and emergencies. Because this article focuses more on dealing with power outages, I'm not choosing the lightest lantern. The long-lasting one is what you need.
GoSun Cabin Lights: up to 4 rooms lit with one charge
The Solar Cabin Lights are fairly affordable solar lanterns with a USB outlet that's yours for about $150. When they are fully charged, you can get light in up to 4 rooms. Or one large off grid space, like a cabin or barn. This GoSun set also has a USB port for charging your mobile phone. The Solar Cabin Lights come with an 8Watt solar panel, 4 lights, and 5 meters of cable.
Solar charges
If you want flexibility, take a look at the GoSun solar chargers. You can place them where the sun is and use them to charge your devices, like your laptop, mobile phone, and tablet. No more panicking when your phone runs out of juice. But of course, they also charge the Fusion, the Chill, the Flow, the Sun King Pro, and power banks. There's a 10Watt solar panel and 30Watt. If you need more power, go for the SolarTable with an integrated solar panel: it gives you 60Watt. For your emergency kit, the 30Watt will be enough.
GoSun SolarPanel 30: charges nearly as fast as an outlet
The SolarPanel 30 is easily portable because it weighs under three pounds, and it's foldable. It's a great companion on travels, but also handy when your power's down. If you put the SolarPanel 30 in direct sunlight, it's just about as fast as an ordinary wall outlet charger. All you do is put it in place and connect the device you need to charge. The SolarPanel 30 comes with a 1.5-meter cable, so you have room to work with.
Preparedness brings peace of mind
Coping with everyday threats can be challenging. Being prepared to help yourself and your family through tough times helps to ease your mind. Knowing how to prepare for power outages is a massive step towards self-reliance and resiliency. If you want to prepare some more, check out the Red Cross's recommendations for your survival kit. Be prepared, be safe!
A little extra, added in June 2021: I just found a video for the tech lovers who want to know how different types of solar cookers work. Including the GoSun ovens, of course. Let mechanical engineer Carla Ramsdell tell you all about the science and the fun of cooking with the sun.