Last updated on June 17th, 2023 at 05:19 pm
You want to get rid of the bacteria-filled sponge on your kitchen countertop. Trust me; you do, even if you boil it frequently to get rid of all the germs. Because chances are you still use those plastic-filled sponges that spread microparticles each time you use or wash them.
There are better ways to clean your dishes or your countertop: eco-friendly kitchen brushes. The wooden ones are even compostable at the end of their lifetime. Scroll on to get some tips on maintenance and repurposing. But first, find out which natural cleaning brush is right for you.
Your brushes for dishes
Bamboo sisal
In our kitchen, you'll find a long handle dish brush with a removable head. Many brands use bamboo handles and plant-based sisal bristles, like this beauty from Zefiro. I've got a beechwood one, but both types are compostable. When the bristles wear down, you can replace the head with a new one. You save waste because you won't need a new handle.
You can reuse this dish brush for cleaning. It's great for scrubbing sinks as well. Pro tip: keep one of the replacement heads separate and use it without a handle as a vegetable brush.
Soap dispensing
If you're not a fan of solid dish soap, you might like a dish brush with a soap dispenser in it: meet Suds Up. The head is replaceable, so you'll have less waste. The handle is bamboo, the brush head is made of biodegradable plant-based plastic. It's a stand-up brush and will air dry on your countertop.
I prefer compostable ones to this one. Sure, biodegradable plastic will eventually turn into compost as well. But it may take years. Still, it's a much better choice than an ordinary plastic brush or sponge.
Coconut fiber
For the tricky angles and curves, you'll want this Redecker. This coconut fiber dish brush is excellent for sticky stains as well. Better yet, it removes those stubborn food stains without leaving any scratches. Added bonus: this natural kitchen brush is handcrafted and plastic-free.
Pro tip: take one of these rounded heads, leave the handle off, and use it as a vegetable brush.
Curved and crafted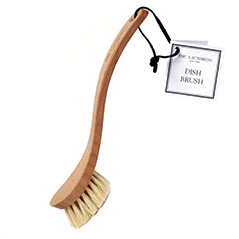 If you don't like the straight handle of a Zefiro brush, go for the pretty curves of this Redecker. It's handmade, like all of this brand's brushes. The Tampico bristles are plant-based fibers that need nothing more than air dry in between cleaning sessions. 
Bamboo pot scrubber
Here's one for heavy-duty dish cleaning: Zefiro's pot scrubber. It's ideal for cast iron but knows how to deal with baked-on food on other pans too. The pot scrubber has a bamboo handle that fits in your hand nicelyand palm fiber bristles. Put it upside down for drying, and it will last longer.
Your brushes for vegetables
Coconut to clean your veggies
This one's hanging on my utensil's rack as well: a vegetable brush. Redecker creates it by hand with coconut fiber. It's great for brushing dirt and dust from your carrots, mushrooms, or potatoes. Completely plastic-free and durable.
Veggie love? Put a ring on it
This vegetable brush gives you more grip because it's ring-shaped. Full Circle has a bamboo handle and a bristle blend of natural and recycled plastic. It's a sustainable alternative to all-plastic brushes or sponges, but it's not entirely plastic-free.
Pro tip: this Full Circle brush ring also works fine as a nail brush.
Your brushes for bottles
Crystal clear cleaning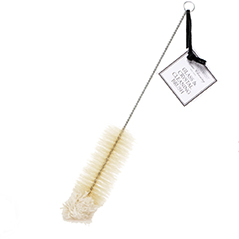 You don't want a rough scrubber for your delicate crystal. Redecker has a solution for you: a glass and crystal cleaning brush. Ideal for getting into tight necks and for scrubbing fragile bottles, decanters, and glassware. Hang it to dry.
Water bottle hygiene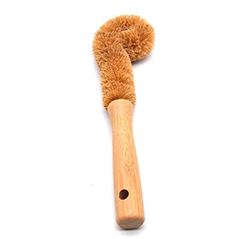 To give your reusable water bottle the hygiene it deserves, your go-to cleaning equipment is this Zefiro bamboo sisal bottle brush. The handle is made from bamboo. And the plant-based bristles are rough enough to clean glasses, coffee mugs, mason jars, and of course, bottles.
When it's worn down and no longer usable, you can put it in the compost bin. Remember to take the metal out of the brush head first. The rest of it is fully compostable.
Brush for narrow bottle openings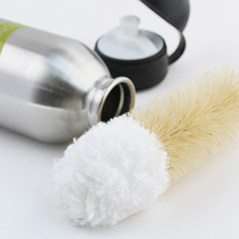 If you have a reusable water bottle with a narrow mouth opening, you need a slim brush. Yes, life is that simple. This one is flexible due to a stainless steel handle. It has nylon bristles and a cotton tip.
Honestly, I'm not too crazy about the nylon bristles. But then again, a brush like this enhances the life span of your reusable water bottle big time. And that's a sustainable win.
Your brushes for cleaning
Tackle the tiles and tub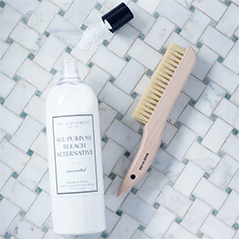 This short handled scrub brush is ideal for cleaning your bathroom and kitchen tiles, tub, and floors. The wooden handle is ergonomic, and the bristles are made from Tampico, plant-based fiber. A great helper to tackle general cleaning.
Grandma's favorite scrubber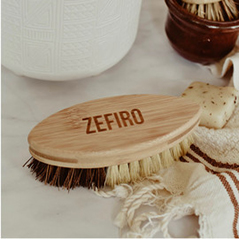 The bamboo cleaning brush that Zefiro created reminds me of the ones my grandmother used. It's an all-purpose brush that has two different kinds of bristles: sisal and palm fiber. They provide a sturdy and softer end; for heavy and lighter duties. It fits right in the palm of your hand to make scrubbing your sink, tub, or tiles a lot easier.
Too good for toilets only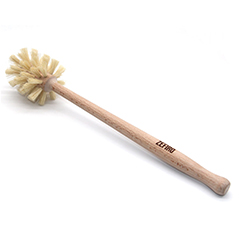 The Zefiro plastic-free toilet brush is more versatile than it sounds. Sure, it's absolutely fantastic for scrubbing toilets with its sustainably harvested bamboo and its sisal bristles. But this one's also superb for cleaning larger bottles or dishes. Just, obviously, never use the toilet one for anything but the toilet.
Your brush for plants
Go the extra mile: get a plant brush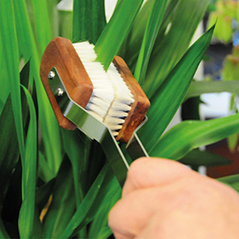 Searching for the best eco-friendly kitchen brushes, I came across a beauty I didn't even know existed: the Redecker leaf brush. Dust on your house plant's leaves hinders their photosynthesis, their ability to create oxygen and clean the air. This double brush cleans both sides of a leaf in one stroke. The handle is made from pearwood and stainless steel, the bristles from Chinese long-haired goat hair.
Taking care of your brushes
It's essential to take care of your eco-friendly kitchen brushes. Sure, plastic sponges fill with bacteria easier, but that doesn't mean a wooden brush is sterile. Make sure to dry them between usage. Hang it on a countertop rail or put it heads up in a glass to air dry the bristles. And sterilize your brushes now and then. Just put your brushes in a pot of boiling water for 3-5 minutes. That will kill the germs. If you want an extra cleanser boost, put some vinegar in the water too.
Pro tip: prolonge the lifecycle of your brush by reusing them for different jobs. Let's say your new eco-friendly kitchen brush starts its job doing dishes. We both know those pretty bristles won't stay that crisp. When worn down, move it to the bucket to clean your cabinets. Or reuse it in the bathroom to scrub your toilet. Just make sure you mark your brushes! You don't want to end up 'cleaning' your sink with the same brush you used to wipe the toilet bowl. Write 'toilet,' 'tub,' or 'scrub' on the brush head with a pen or waterproof marker.
Pick your favorite eco-friendly brush (or not)
We all have our preferences when it comes to cleaning or doing the dishes. If you like to use brushes, you undoubtedly found a suitable one in this article that you'll enjoy. If you prefer sponges, no matter what, that's fine too. There are sufficient, sustainable alternatives for those as well. Let me know if you need to learn more about those, and I'll gladly help you out.
Want more eco-friendly kitchen tips? Check out these articles: