Last updated on October 24th, 2022 at 05:59 pm
Putting on clothes that really fit me, always makes me feel more comfortable and activated. Funny how that works. Put on some shoes and production goes up. Dress nice and you feel stronger. I don't really understand fashion, I just know what I like. And what looks and feels good on my body shape. The fit, however, is much more than just wearing the right size, color and model of clothing.
To me it's just as important whether the clothes fit me ecologically. I need my fashion to fit my eco-friendly lifestyle. And I'd very much like to help you look at your wardrobe differently too. Some of you might feel overwhelmed with all the choices and don't know how to find eco-friendly fashion brands. Or you might think you'd have to give up looking fashionable altogether. Some of you don't have the money to spend big on clothing or shoes.
The good news is: there's something for everyone! You can make your wardrobe as sustainable as you want in very different ways. Some need a bit of research and getting to know your brands or materials. Others are very easy steps to green up your wardrobe with little effort and little investment. Sounds good? Then read on for my 6 tips on how to make your fashion fit your eco-friendly lifestyle.
When you buy products using links on this website, I may get a small amount of money. It will cost you nothing extra! But you would help me keep this blog going and you would make me happy. Thank you!
Find eco-friendly fashion brands

Living a more sustainable life is not just about cutting down on things you don't use. You can live in luxury and still protect our planet the best you can. How? By knowing where you spend your money. Buy what you need from brands that put people and planet first. If you are really hung up on specific brands, changing to other ones might be a step too far for you. But if you know how to spot great fashion that fits your style no matter where you shop, this should be fun.
Don't you just feel even better looking in clothes and shoes that don't use toxic chemicals? From brands that don't use child labor or step on their workers human rights? I know I do. Years ago I made a promise to myself: everything I'd buy from that moment on, would have to be the best I could get. I'd look for the most eco-friendly version of a product, I'd avoid products that were made exploiting people and I'd make sure the product was really useful to me or made me happy in some way. And the first new jeans that I bought after that was from Kuyichi. I still wear it. And still love it.
If you never even thought about your clothes being eco-friendly or not, it can be overwhelming to find your way in the world of fashion. That's where special search engines come in.
They are a great place to start researching the brands you already know or have clothes from. And to find new brands that might outrank your current wardrobe on sustainability. Take a look on the sites of Rank a Brand and Fair Wear Foundation. You will find a ton of inspiration there and great information about eco-friendly fashion.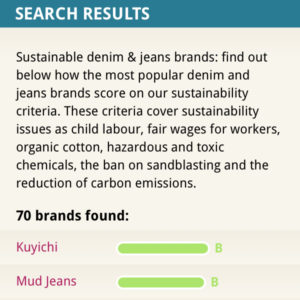 If you're shopping on a budget, you'll be happy to know that more and more brands are switching to a more eco-friendly work process. That means that more and more of the cheaper fashion is sustainable too. You don't need a big wallet to buy new shoes or clothes and still help our planet. Take a look at HM for instance. Their Conscious Sustainable Style is very affordable.
Lease your clothes
One of the things I love so much about the green movement is the innovation that some brands show. Great ideas from brilliant minds. And so very often the greatest ideas are the simple ones. Like leasing your clothes. What? Yes! Stop owning your clothes, start leasing them. If it works for cars, why not fashion? Both revolutionary and logical. And MUD Jeans is the brand that got this going.
The concept is pretty simple. You pay a one-time member fee. As a member, you pay a monthly fee that gives you access to three jeans of your choice. You pick your favorite in their store and wear it for at least a year. If at any time after that first year, you'd prefer another jeans, you can switch them. Your old jeans will be recycled into a new pair that someone else can lease. You always have the latest model in your wardrobe, while saving water, resources and waste. Win-win.
Look for the right fabrics
If you can't find any specific information about the fashion brand you want to buy from, no sweat. There's always the label. Simply check the tag. On the label you'll read exactly what that little black dress, that hoody or that pair of jeans are made of. And that can help you make a conscious choice. What to look for? A few pointers for you.
Organic cotton
One of my favorite materials to wear is organic cotton. It's beautiful, colorful, sustainable and comfortable. I've always loved the way cotton feels on my skin. And organic cotton never gives me any trouble like itching or sweating. One of the first things in my wardrobe I switched to organic cotton was my underwear. Best choice ever. After all, organic cotton is made without the use of synthetic chemicals. So no chemical fertilizers or pesticides.
Hemp
Hemp is a material that's easily overlooked when buying clothes. But it's been used for fabrics for 10,000 years. Yep, that's 10,000 years! Hemp is a pretty amazing plant. It grows very fast and that alone makes it an eco-friendly option. Faster growth means that less water is needed, for instances. From hemp, you can make paper, biodegradable plastic, clothes, bio fuel and food. In clothing, hemp is comparable with linen. It kind of has the same feel and look as linen does.
Linen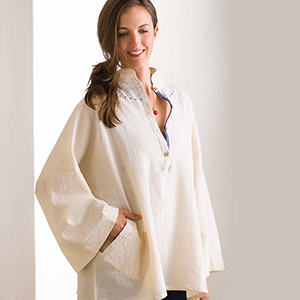 And in comes linen. Of course linen deserves to be in this list. Another plant based fabric that's been around as long as hemp. Linen is strong and durable. One of the best qualities of linen is that it feels cool. Literally. Although it looks cool too, no doubt. But I'm talking about how linen feels cool to touch. It absorbs moisture easily without you feeling damp. No wonder linen is popular during hot summers and in warm countries. It may feel a bit rough when you buy it new. But the more often you wash linen, the softer it gets. Fair warning: linen is not for people who can't stand wrinkles. But if you're a fan of a natural look in modest colors, linen is your fabric of choice.
Lyocell
Lyocell fiber is the new kid in town. Lyocell is developed by Tencel and it is made from wood pulp. It still amazes me that hard material like bamboo or trees can be made into the softest fabrics you know. Tencel works hard on making their production process sustainable. They say they're already able to reuse and recycle 99% of the water they need to make Lyocell fibers. The fibers can be blended with others like cotton and denim, silk, linen and wool. If you find Lyocell or Tencel in clothes, you know it's a more eco-friendly choice.
Organic wool
Good old wool. Of course. It doesn't come more natural than yarn made of wool. But even with wool, there's a more eco-friendly choice out there and that's organic wool. The sheep that give organic wool are living in good conditions. And they aren't exposed to chemicals like pesticides. So no harm to the animals and no harm to the soil. Another bonus is that no toxic chemicals are used when dyeing the wool. Organic wool is both better for the sheep and for our planet.
Buy second hand fashion
Your old clothes can be new to someone else. And their old clothes new to you. Why not buy second hand fashion? It's a lot cheaper than buying new clothes. And it helps reduce waste. You won't believe the pile of clothes people throw away every year. Sure, you can recycle a lot of that fabric. But it's better and more eco-friendly to reuse it as long as it's still good. Let's waste fewer clothes.
Second hand clothes can be found on market places. Both on and off-line. Many of you may already have checked out eBay or other search engines like it for second hand closed. But you can also find online markets especially for buying used clothes. They come in all styles, sizes and prizes of course. And for those of you who are afraid that second hand isn't stylish enough or fashionable enough… Take a look at high end second hand stores like Vestiaire Collective or Tradesy where you'll find luxury brands everywhere.
Upcycle the clothes you have

This one is for the handy or the crafty one among you. I wish I could sew, but nope. To upcycle or repurpose your own old clothes is big fun. It's being creative and eco-friendly at the same time. And it can be done on a tight budget too. Waste less, reuse what you already have and add some beautiful features for an upcycled fashion statement.
If you need some inspiration and brilliant ideas, simply fire up your search engine (I always use Ecosia instead of Google, because it plants trees for your searches, yay!). When you search for "how to upcycle your clothes" you get over 54 million hits. Wow. How's that for inspiration. See one that I love right here below: lace in a cut up jeans.
Trade fashion with friends
Maybe I just saved the best for last. Or at least the cheapest one. You are not the only one in your neighborhood, school, or office who is bored with their clothes. Or who lost or gained weight and need a different size clothing. So why not swap? Trade fashion with friends, family, neighbors or coworkers. It's fun, it's cheap and it can completely transform your wardrobe. Here's an easy tutorial from Real Simple on "How to Host a Swap Party". Enjoy!
There's also online options for trading clothes and some apps, if you prefer those in this digital age. I found a few blogs that made some awesome lists for you to check out. Take a look at this blog from WiseBread that gives you 5 websites for swapping clothes. And if you like some more or simply prefer apps, check out JBCSTYLE blogging about 5 apps to swap, trade and sell your wardrobe.
Green up your wardrobe one piece at a time
Having an eco-friendly wardrobe doesn't mean throwing everything out and start over. Please no. Let's waste less. Including fashion. All you need to do for a sustainable wardrobe is make different choices from now on. Every time you feel the need for new clothes or new shoes, check your eco-friendly options. And one by one, piece by piece, make your wardrobe greener. I'm curious how you go about greening up your fashion. I'd love it if you let me know in the comments. Have fun with your fashion!