Last updated on October 24th, 2022 at 04:41 pm
As soon as those first rays of spring sun touch ground, it's there: the urge to go into the garden and get it ready for outdoor leisure time. Whether you love a lush green urban jungle or a neatly organized outdoor living space, you'll enjoy the space better with excellent furniture. And, of course, it needs to be sustainable. Here's what to pay attention to if you want to create an outdoor haven with eco-friendly garden furniture.
It can be challenging to go from basic garden plans to solid eco-friendly garden ideas. What to do, and equally important, what not to do? I'm not going into the gardening itself, like using organic seeds or plants, making compost, and start mulching the right way. Nope, today is about the furniture. What materials are a better fit for your eco-friendly lifestyle? And what brands create the beautiful pieces worth saving up for?
When you buy products using links on this website, I may get a small amount of money. It will cost you nothing extra and opinions are always my own! But you would help me keep this blog going and you would make me happy. Thank you!
Repurpose old stuff
In most cases, the most sustainable thing to do is use what you already have. Sometimes all your old furniture needs is a touch of paint. Or a new fabric on the cushions. You can repurpose 'garbage' too. Create a fire pit with old bricks, upcycle old tires into side tables or stools, or turn those wooden pallets into lounge chairs. Creativity goes a long way.

Need some inspiration? Check out Funky Junk Interiors or RecycleNation. You can go for an all-natural look or paint everything in your favorite colors: your garden, your style.
Be smart about the materials you pick
When you are ready for new pieces of garden furniture, think about what materials you prefer. And find the most sustainable source of your favorite. It's important to remember that your outdoor furniture needs to be tough: rain, hot sun, sea wind, insects, and wildlife can all do a number on your favorite pieces. The eco-friendly materials you need are resistant to those challenges, don't rot quickly, and are easy to clean.
Wood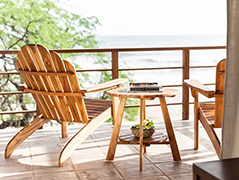 There's a good reason why teak is one of the most common types of wood used for garden furniture. It's beautiful and durable. Teak contains natural oils that make it pest-resistant. Those oils also help your furniture withstand rain. And teak doesn't need artificial fertilizer to grow. So there's no need to use chemicals or insecticides on the plantations.
Other eco-friendly woods are bamboo (although technically a grass and so doesn't have an FSC certification), North American white ash or maple, oak, and pine. Just make sure you buy wood that is FSC or PEFC certified. That way, you know it's not illegally logged from forests but sustainably grown on plantations. If you want to double up on sustainability, go for reclaimed wood furniture.
Aluminum
When you like to rearrange your outdoor furniture often, you'll love aluminum. It's a durable metal that's both strong and super lightweight. You'll often find it combined with wood for seatings or tabletops or with sling seats. Aluminum is a 100% recyclable metal. It can even be recycled infinitely into other products, which makes it very sustainable.
It hardly needs any maintenance, unlike wood does. Don't worry about finding your style: aluminum furniture comes in all shapes and forms. And you can choose from an impressive ray of coatings and finishes: go natural or full color.
Recycled plastic
If your read this blog regularly, you know I prefer not to buy anything plastic at all. And yet, all the plastic in the world is here to stay. So the next best thing is to reuse it whenever possible, like in garden furniture. The big plus of recycled plastic is the endless choice of colors. And usually, it's easy to maintain. Recycled plastic, like the ordinary kind, isn't bothered by water. But if you have high-intensity sun all summer, your furniture may fade or crack much faster.
Sustainable brands for eco-friendly garden furniture
There are more sustainable brands every year, and it's no different for eco-friendly garden furniture. Prices are slowly coming down because of the rise in supply. But in the end, it depends on how high-end your taste is too. Does your lifestyle ask for upcycled side curb finds or for grand Italian design?
If you create your own garden furniture from curb side treasures for free: good for you! If you prefer to support existing sustainable garden furniture brands, let's check out some of the countless style options.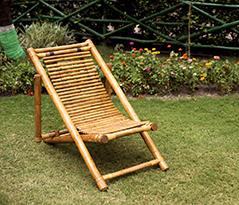 Amara | Rattan is evergreen when it comes to building materials: quick-growing and naturally renewable. The climbing plant can take heavy harvesting, and it's solid and durable. That makes this Amara easy chair a sustainable and good-looking choice for your garden or patio. Amara works with artisans in three states in India, where generations have been perfecting the craft of weaving rattan and creating rattan furniture. You might want to check out the cute rattan children's chairs as well.
Coalatree | Bring the vacation feel to your backyard with Coalatree hammocks. They are comfortable and ultra-lightweight, so they are great for on the go too. Coalatree is an innovative brand that uses recycled materials, like coffee grinds, to make brand new fabrics. Most of their stock is apparel, but for your sustainable garden fun, check out the colorful hammocks and blankets.
Emeco | This Pennsylvania company works together with Coca-Cola. Together they try to find a solution for the massive amount of plastic waste the soda industry yearly produces. That's how Emeco started to upcycle PET bottles. It takes 111 PET bottles to create a timeless chair: the 111 Navy Chair. These handcrafted classics in several cute colors are suitable to use outside, and they also come as bar stools.
GoSun | If you care more about functionality than a specific style, the GoSun solar table is an excellent asset to your eco-friendly garden. Sure, it looks like a camping table because that's what it's perfect for. It's a fantastic foldable travel buddy. But it comes in handy at home too. The GoSun solar table will give you instant power to charge your devices like smartphones or tablets, power banks, and radios. Lower your electricity bills and use the power of the sun.
Masaya & Co. | This brand started as a reforestation project in Nicaragua. But Masaya & Co. turned into a sustainable furniture brand. For every piece of furniture sold, they plant 100 trees. Masaya & Co. works with dozens of artisans in the region who work together with architects and furniture designers to create stunning pieces. The wood is sustainably sourced from Teak, Rosita Walnut, and Royal Mahogany. Masaya & Co. offers traditional Adirondack chairs and tables and funky colorful rocking chairs for your outdoor fun and relaxation.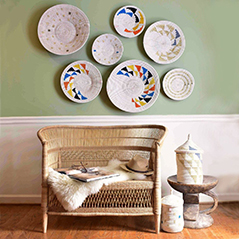 Mbare | The ethical brand Mbare has been working with African artisans for over 20 years. Most of them are fair trade certified. Their handwoven baskets and furniture are made from natural and recycled materials. The Malawi Cane loveseat and chair are handwoven with traditional weaving techniques, passed down for generations. You can get the Malawi set in natural or white, matching beautifully with textiles in your favorite colors.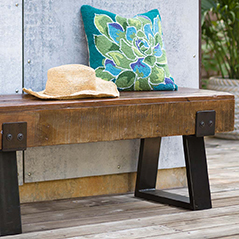 Richland | Add a rustic vibe to your garden with the Richland reclaimed wood furniture. Get yourself a bench, stool that doubles as a side table, or a console table from beautifully aged materials. The distressed-looking top full is made of reclaimed Shorea wood railroad ties. That means each piece of furniture has its unique variation and look. The rustic reclaimed wood matches perfectly with the steel legs that give Richland an industrial feel.
VivaTerra | This eco-friendly home decor shop features many sustainable brands for furniture. But don't dismiss the beautiful pieces in VivaTerra's stock that remain nameless. Like the rattan hanging chairs, either round or egg form. These chairs are built to last with a steel frame wrapped in wicker polyethylene rattan. Just imagine lying back into some cushions and swinging softly in your hanging chair: the bliss of summer.