Last updated on October 24th, 2022 at 05:24 pm
It feels like my birthday. The doorbell rings, my always happy delivery man gives me his familiar big smile and hands me a pretty package. A brown carton box with a cute purple heart print on it. My Love Goodly box has arrived. Time to unpack and enjoy the surprise. I have no idea what's inside. Yet. Stay with me and we'll find out. There's also a special discount offer for you and even a giveaway. Sounds good? Read on!
When you buy products using links on this website, I may get a small amount of money. It will cost you nothing extra! But you would help me keep this blog going and you would make me happy. Thank you!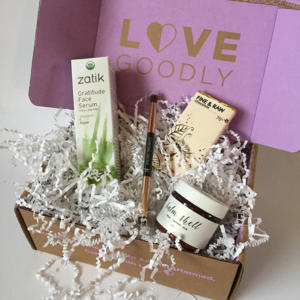 Love Goodly isn't your every day beauty products shop. It's better. Every product they sell is cruelty-free, nontoxic and vegan. The brands they work with are organic, non-gmo and eco-friendly.
I'm not a big user of beauty products, I keep it simple. You know, a day creme, hand creme after gardening, a lip balm, shower gel. That's about it. But I do want it to be as natural as it can be.

I don't want poison on my skin. And I want eco-friendly, low waste products. Like the ones Love Goodly puts in their boxes. Boxes? Yes boxes.
Being sustainable is a plus to me. Another difference about Love Goodly's approach is that they sell subscription boxes and gift boxes. That's something I'm not used to. But I want to try a box to see what's it all about. Love Goodly has a variety of boxes. I'll tell you more about all the options later. For now, let's focus on the one I received. I've been trying the products inside and will share my experience in detail for you to be able to decide if you want to try one yourself.
How I used Love Goodly
The purple hearted box I have, is the Essential Bi-Monthly Subscription Box. If you subscribe to this one, you receive a box every other month. Mine is the box from February/March. Every box contains 4 to 5 full size products. There are no samples or mini's in this subscription. It's original size, as it should be. The content of the box is different every time. It's like a little surprise party for me, myself and I. Although you can check the content of the upcoming box online if you prefer to know and enjoy the anticipation.
In my box I find a printed card, with purple hearts of course. In style. On the front's a welcome message from owners and founders Katie and Justine, a chance to win a free beauty product and the company's website and email address. On the back the list of products in this box and a description of what they are, a coupon to save 15% on any shop purchase and the charity of the month. Yes, apart from being cruelty-free and vegan, Love Goodly also supports a few charities with every box they sell.
When I unpack my box, these are the four products that surface: Balm Shell from Flower Mill Beauty ($42), Gratitude Face Serum from Zatik ($32), Duel Sided Luxe Shadow Brush from Aisling Organics ($20) and last but not least a chocolate bar from Fine & Raw ($5). Intriguing content.
Gratitude Face Serum (Zatik)
The first thing I'm trying out is the face serum. You only need to use a little, because it spreads out great. It's quite liquid, not oily at all and it feels soft and refreshing on my skin. But that smell is going to take some getting used too. Or so I thought. The first day it smells awkward to me, I can smell it every time I wave my hands too even after washing them. But the second day, it was absolutely fine. No more awkward smell, but a neutral one. This takes a lot less getting used to then I imagined. And the skin on my face feels great. My skin can be very dry and itchy. Zatik's face serum makes it smooth, soft and calm. No more itch. Yay!
If you want to know more about my experience with Zatik's Gratitude Face Serum, check out the seperate review I made for this beauty product: Organic Face Serum review.
Balm Shell (Flower Mill Beauty)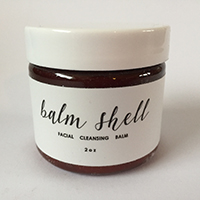 A few days later I start using the Flower Mill Beauty balm, before sleep. I only wear make up once or twice a year, so I'm not testing it on make up removal. I use it to clean my face and get rid of the dirt or pollution that somehow always seem to get on your skin. It's a thick balm, that I can only get out of the jar with a cloth. I'm using either a washcloth or a small towel. I put a tip of the cloth in the balm and massage my face with it. Making sure I cover my whole face and I let it sit, while I brush my teeth and get ready for bed. The scent has a sophisticated sweetness to it from mango and rosehip. When I'm ready to go to sleep, I wash the Flower Mill Beauty balm off with warm water. And my face feels refreshed, calm and nurtured.
Chocolate bar (Fine & Raw)
It's hard not to get excited about trying out a new brand of chocolate. I never thought I'd turn into such a cacao lover, but here I am. To me, the best chocolate is 80 to 85% cacao. Deep dark bitter-sweet. This bar from Fine & Raw is a 70% one. But it's raw chocolate and I'm new to that. Raw means that it's uncooked, or in this case, that the cacao beans haven't been roasted. The bar contains no refined sugars and is sweetened with coconut sugar instead.
How does it affect the flavor? Well, it's chocolate heaven if you forget about the standard tastes and creaminess of ordinary bars. It's different. This chocolate is less creamy, has a less smooth texture and doesn't taste like a sugar bomb. Your taste buds are surprised with a subtle sweetness and a bitter aftertaste. The cacao taste is pure and raw and unlike the chocolate you're used to. Fine & Raw is not for sugar junkies. This is for lovers of chocolate and cacao.
Duel Sided Luxe Shadow Brush (Aisling Organics)
As I mentioned before, I hardly ever wear make up. I thought it would have been a total waste to use this beautiful eye shadow brush, just for the sake of this review. When I know I can make somebody else happy with it. Somebody who does use make up every day and who could use a good, professional, cruelty-free and vegan brush.
Does it sound like you? Well, you just might be the lucky one who gets this Aisling Organics brush for free in the giveaway! I'll tell you how to enter later on in this article.
What I love about Love Goodly
It's fun to try out the Love Goodly subscription box. I'm enjoying the great quality products as much as I've enjoyed the experience of receiving the package filled with surprises. It feels like receiving a present, a gift to myself, some indulgence and self care.
So here are all the good things:
the product quality is high
no more itchy skin
no animals were harmed to create these products
all natural ingredients, non-toxic
the good causes and charities they support
the eco-friendly packaging
the look of the packaging and branding
the element of surprise
feels like opening a present
customizing colors or styles (like preferences due to color of hair or skin)
they provide lots of information on their website
What I dislike about Love Goodly
Funny thing is, that one of the things I love about Love Goodly, is just as much a negative. Depending on how you look at it and whether you like surprises. What do I mean? Well, it's fun and exciting that you don't get to pick the content of the box. You get to try out new products every time. And I love that element of surprise and exploring new territory. But if you like certain products, you never know if they'll be in the box ever again. And you can't choose if you get a product for your face, or your hands or something else. However, there's always the option to buy your favorite products separately as an extra.

Here are the things I'm less fond of:
not being able to choose products
the price; quality products are costly*
getting the boxes at certain times, regardless whether there's still produce left or used up sooner
*I do want to add something about the price being high. I think it's worth it, but know it's tough when you're on a budget. It's not expensive if you are a regular user of non-toxic, eco-friendly, vegan or otherwise sustainable products. Because if you pay full price, it adds up. The Zatik Gratitude Face Serum alone is $32 retail price. While this entire box was $34.95 so if that pays for the serum and the chocolate, the eye shadow brush and the cleanser are in there for free. The more products you are used to using, the cheaper this box relatively gets.
Options
Love Goodly has a variety of boxes to choose from. Depending on how many products you'd like to receive. And whether you want a subscription box or a gift box.
I have been trying the Essential Bi-Monthly Subscription Box. You get 4 or 5 full size products per box. Like products for skincare or wellness, healthy snacks or eco style accessory. The total retail value of these boxes are around $105. And you receive a box every other month (1 box per 2 months). A subscription to this box is $34,95 (plus free shipping in the US).
There's also the VIP Bi-Monthly Subscription Box. This box contains 5 or 6 full size products that add up to a total retail value of $140 per box. You receive a box every other month (1 box per 2 months) and you pay $48,95 (free shipping in the US).
There are more options to choose from. Like one time gift boxes or 6 and 12 months subscriptions. You can find all the options here.
Love Goodly's extra's
Love Goodly provides great service on their website. They even have a page dedicated to all the ingredients Love Goodly doesn't allow in the products they put in the subscription boxes. And that's a big list of unhealthy ingredients that you don't want to put on your skin.
The fact that Love Goodly is paying it forward is a plus to me. They have a few causes they donate money to. In every subscription box you receive, you find a note about the cause your specific box is supporting. The money goes to Farm Sanctuary, Cure Cervical Cancer, Beagle Freedom Project and Paw Works.
Alternatives
If Love Goodly is too pricey for you, or you don't like surprises, you're probably better off with alternatives to subscription boxes. Try out products you think you like and only buy what you need, when you need it. Find out what products you want to use, what brands you like and what ingredients you do or explicitly don't want in your beauty products. In the long run it might be cheaper to only buy the necessities.
Giveaway and discount code
I have enjoyed the Love Goodly experience very much and I'm impressed with the quality of the products. If you like to try the Love Goodly subscription boxes too, I've got some good news for you. Because Love Goodly has been so kind to offer you, my dear Wasteless Planet visitor, a special discount. Subscribe to one of the Love Goodly boxes and use the code WASTELESSPLANET to get $5 off your first purchase.
Everybody that uses the code gets the discount, but one lucky subscriber also gets the Duel Sided Luxe Shadow Brush from Aisling Organics. This giveaway is worth $20. All you need to do, is email me proof that you subscribed to one of the Love Goodly boxes. And I'll put your names in a hat (or more likely a pillow case) and pick a winner to send the brush to. Entry for this giveaway closes the 30th of April. Good luck!
Spreading the love
In conclusion, to answer the question in this article's title: yes, Love Goodly spreads the love. Love for yourself when you're using high quality and non-toxic products, love for the environment when using eco-friendly products, love for friends when giving away these boxes and love for others by supporting good causes along the way. Share the love!