Hands up if your face can feel dry and itchy after washing it. I know mine can. Sometimes I can't grab my facial creme fast enough, eager to get rid of the tight feeling on my skin and the itch on my forehead. You know the feeling? Today's review might help you out because it's all about the Zatik organic face serum Gratitude. Find out if I was feeling grateful after using it. And if you make it to the end of the page, there's a special discount waiting for you.
My go-to brand for skincare is Weleda: all-natural products that never give me any problems with my allergies or sensitivities. I use their body wash (shower gel), their toothpaste, their body oils, their lip balm, their eye cream and of course their day creams. If you have sensitive skin as I do, you can be hesitant to try a new brand. But sometimes your glad you did. Like when I tried Zatik's organic Gratitude Face Serum.
When you buy products using links on this website, I may get a small amount of money. It will cost you nothing extra! But you would help me keep this blog going and you would make me happy. Thank you!
Surprise delivery
Zatik was an unfamiliar brand to me, I never heard the name before. But one of its products, the organic face serum Gratitude, was part of a subscription box I reviewed. It was a subscription box from Love Goodly, a company that only partners with brands that make non-toxic, all-natural products. Their handpicked products are eco-friendly and of high quality. If you want to know all about my experience with that subscription box, click on the link below.
If you don't like subscription boxes, let alone surprise subscription boxes, you'll like to hear that Love Goodly also sells individual products. So you can pick out anything you like. And buy it only once, or only when you need it. If it turns out you love the product for everyday use forevermore, you can get a tailor-made subscription for that single product. Convenient, right?! Okay, back to the organic face serum.

>>> Click here if you want to read my review about the Love Goodly subscription box <<<
What on earth?!
Oooooh, what on earth is that smell? Quite honestly: that's the first thing I think when I put a drop of Zanik's Gratitude on my fingertip. That's not a pleasant scent! But hey, this is for you. You need an honest review of the products I test or use. So I figure I owe you and Zatik at least a week of true experience. And that, my friend, proves to be a good decision. Because funny enough, the weird sense of smell is only present the very first day.
I can smell it every time I wave my hands (I talk with my hands so there's a lot of that, haha) even after washing them. But the second day, it's absolutely fine. No more awkward smell. A soft, neutral scent instead. Turns out, this organic face serum takes a lot less getting used to than I imagined on day one.
The bliss of softness
Gratitude Face Serum is quite liquid and easy to apply. It's not at all oily or greasy. The serum feels blissfully soft on my skin and absolutely refreshing. The skin on my face feels great. No dryness, no itching, no tightness. Somehow my face even looks less tired and that's always a win, don't you agree?! This delightful organic face serum leaves my face smooth, soft and calm. It seemed to me even my wrinkles were less visible. Zatik has won me over for this serum.
What is in it?
Gratitude is a certified organic face serum. So maybe we better look at what's NOT in it. There's no alcohol, no gluten, no GMO ingredients, no soy and nothing from animals. Yes, it's not just organic, it's vegan as well. You can feel good knowing you aren't putting any toxins on your face and no animals were harmed or used for your beauty rituals.
This face serum contains a mix of organic herbs. There's also marine algae and seaweed in it. Other ingredients are fatty acids that come from raw flower and vegetable seed oils. According to Love Goodly the nutrients in this serum help hydrate your skin and smooth out wrinkles and facial lines.
What I love about Gratitude Face Serum
It's fun to try out the products that Love Goodly sells in their shop, either individual ones or multiple in the subscription boxes. I'm enjoying the great quality products as much as I've enjoyed the experience of receiving the package filled with surprises. It feels like receiving a present, a gift to myself, some indulgence and self-care. Zalik's organic Gratitude Face Serum is no exception to that rule.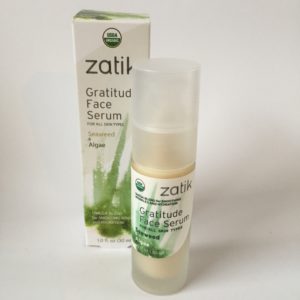 So here are all the good things:
product quality is high
no more itchy skin
smooth feeling skin
refreshing
no animals were harmed creating these products
all-natural ingredients, non-toxic
Love Goodly supports good causes and charities
eco-friendly packaging
pretty branding
easy to use, leak-free pomp
What I dislike about Gratitude Face Serum
There's not much to dislike about Zalik's organic Gratitude Face Serum. Although there is the price. This baby does not come cheap. It's usually in the $30 range and that's not for everybody's budget*. If you can afford it, it's a real treat. It makes you look good and it feels good too, knowing you aren't putting any toxins on your face.
Here are the things I'm less fond of:
the price; quality products are costly*
the pomp isn't easy to reuse
not refillable, no bulk buy option
plastic top
*I do want to add something about the price being high. I think it's worth it, but know it's tough when you're on a budget. It's not expensive if you are a regular user of non-toxic, eco-friendly, vegan or otherwise sustainable products. Because if you pay full price, it adds up. Should you subscribe to the Gratitude Face Serum with Love Goodly, you get a 10% discount.
Options
If you buy Zatik's products with Love Goodly, as I did, you've got several options to choose from.
You can buy it once, to try it out yourself
You can buy it when you need to
You can subscribe to individual products for fresh supplies
If you like the element of surprise, you can choose the subscription boxes Love Goodly offers. They have a variety of boxes to choose from. Depending on how many products you'd like to receive. And whether you want a subscription box or a gift box. If you want to know more about those, you can read my review on the Love Goodly subscription box. It has more information about the different subscription options and the links you need to check them out.
Special Wasteless Planet discount code
It should be clear to you that I loved the organic face serum. That's why I gladly recommend Zatik's Gratitude Face Serum and I'd love to hear your experience when you give it a try. I have enjoyed the Love Goodly experience very much and I'm impressed with the quality of their products.
If you like to try the Gratitude Face Serum or the Love Goodly subscription boxes too, I've got some good news for you. Because Love Goodly has been so kind as to offer you, my dear Wasteless Planet reader, a special discount. Subscribe to one of the Love Goodly products or surprise boxes and use the code WASTELESSPLANET to get $5 off your first purchase. Enjoy!