Last updated on October 24th, 2022 at 04:45 pm
Once you've gotten used to the convenience of online shopping, you'll find yourself clicking those checkout buttons more and more often. Of course: it's fast, and it's easy. At the top of the list are one-stop-shops like Amazon. It doesn't get much more convenient than that, right? Unless you are wrecking your brain trying to find the most sustainable products in there. That's why you want to check out these eco-friendly alternatives to Amazon for your sustainable shopping. They are one-stop-shops that are so much better for our planet, for workers, for artisans.
When you buy products using links on this website, I may get a small amount of money. It will cost you nothing extra! But you would help me keep this blog going and you would make me happy. Thank you!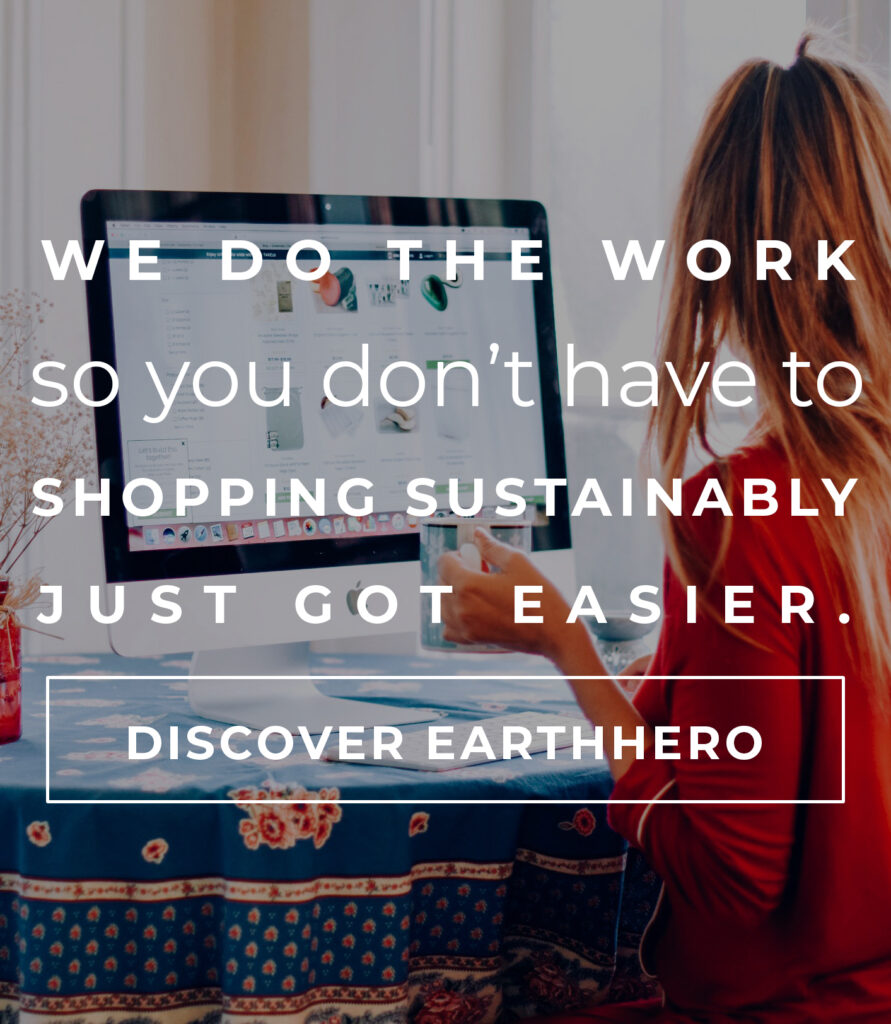 The eco-friendly online marketplace EarthHero wants to become THE one-stop-shop for sustainable living. And they are well on their way. New products are added weekly, and the store offers a wide variety of products. With EarthHero, you don't have to wonder whether your purchase is eco-friendly. "You can pick from products that are sourced, manufactured, and shipped in a way that protects our planet's future," EarthHero mentions on their site. "Each brand we've partnered with has been chosen because they're taking the right steps and helping to create a more sustainable future."
What can you buy at EarthHero?
The shop has thousands of items to offer already: zero waste essentials, clothes and accessories, baby care and toys, travel gear, home decor, outdoor gear, audio and tech accessories, pets toys and necessities, and beauty and care products. This is already an outstanding stock for a company that's only been around for a few years. And they are still growing. EarthHero also has products for businesses, like corporate gifts, custom branding, and zero waste break room ideas. They're becoming a great sustainable alternative for sure with a wide range of eco-friendly products.
What does EarthHero do as well?

They partner with CarbonFund to make their company fully carbon neutral. "We offset the carbon footprint created from transporting the products offered on our site. In addition, many of our companies manufacture their products in the USA, which cuts down on the amount of miles each product travels before reaching your door." EarthHero also works with brands that use packaging made from recycled, recyclable, and compostable materials.
EarthHero strives to be a zero-waste company. And it's a member of 1% for the Planet. "We donate 1% of our sales annually towards sustainability initiatives and organizations that give back to the planet. All team members at EarthHero also take part in local environmental initiatives to support our community."
Special discount code
EarthHero doesn't claim to be perfect. Yet, they are serious about creating a sustainable world. And they realize that the power is in how you spend your money. "Every purchase we make doesn't just support a company; it supports a movement to turn our manufacturing system inside out." EarthHero makes sure you can only buy the best. "We've got a passionate team of researchers behind us, a fired-up community by our side, and just enough bold hope and gritty determination to fill in any gaps." Becoming a sustainable Amazon alternative takes time, time to grow. "And together, our story is just beginning," EarthHero hopes.
EarthHero has a special offer for you because you are a Wasteless Planet fan. You get a gracious 10% off your purchase if you use the code BIANCA10 at checkout. Yes, there's a discount code with my name on it, yay! So that you can get your favorites at better prices.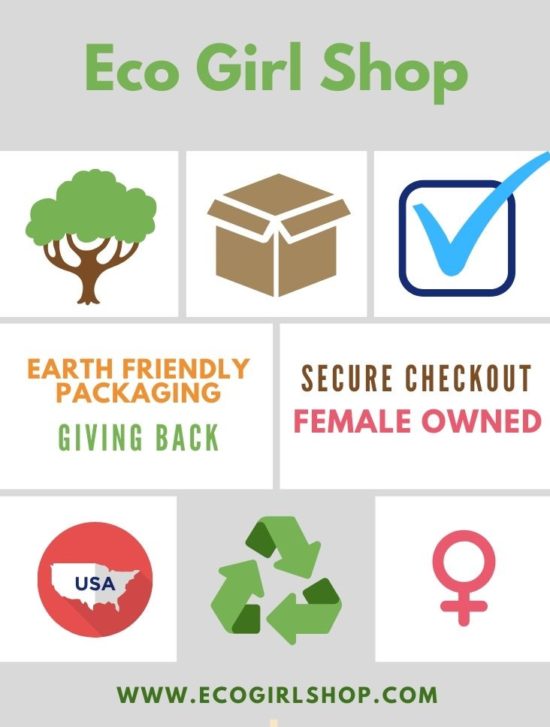 The woman-owned Eco Girl Shop is a small yet eager company. There's no comparing this small business to big enterprises; it's more like EartHero's little sister. But the mission is the same: "Make finding earth-conscious products easy. We put people and the planet first when it comes to deciding which products to offer." Eco Girls Shop picks earth-conscious products. You'll find bamboo, recyclable glass, stainless steel, organic cotton, and plant-based items. The company wants to work zero-waste, uses pre-used packaging materials, and keeps transportation miles to the minimum by sending straight from the artisans when possible.
What can you buy at Eco Girl Shop?
You'll find most of the essential basics for your zero-waste life in this shop: picture kitchen and bathroom essentials, beauty and care products, and reusable bags. But Eco Girl Shop also offers a few gift options, swimwear, and even bamboo sunglasses. Cool feature: you can select values for your purchases. Your eco-friendly products can be organic, made in the USA, plastic-free, handmade, reusables, and vegan. If you love to support green-hearted small businesses that minimize their waste production, Eco Girl Shop is a beautiful place to spend your money.
What does Eco Girl Shop do as well?
Eco Girl Shop watches its ecological and carbon footprint. They source from small businesses, locally or USA-made. They use as little packaging as possible, preferably recycled, and they often ship directly from the makers. Eco Girl Shop also gives back through One Tree Planted. "For every order placed on our website, we plant one tree wherever reforestation is needed most," the website says. Certifications show how dozens of trees have been planted already and where.
Your love for one of a kind furniture and ethical fashion statement pieces will be fulfilled at Made Trade in a heartbeat. "Made Trade is your one-stop-shop for exceptionally designed, fair trade, sustainable, USA made, vegan and heritage products, all handmade by makers and artisans around the world," they explain on their website. Made Trade's collection has thousands of products. The cool part: you can select the values that mean the most to you. There are several choices, yet all ethical.
What can you buy at Made Trade?
At Made Trade, you'll find all the possible home decor you need. And even more that you'll want once you've seen it. From furniture to linens, from throws to wall decor. You can also shop for clothing, shoes, and accessories for the entire family. You can shop knowing everything you buy from Made Trade is ethical. But if you want to be more specific, select one of several of the specified values: fair trade, heritage, made in the USA, people of color-owned, sustainable, vegan, women-owned.
What does Made Trade do as well?
Made Trade partners with Carbon Credit Capital to make sure all the shipping and returns are carbon neutral. "All carbon emissions from the transportation of any product on Made Trade are 100% offset through the purchasing of carbon credits," owner Cayley Pater explains in Made Trade Magazine. The company's also a member of 1% for the Planet. "Made Trade is proud to be a member of 1% of the Planet, donating 1% of revenue to the non-profit organization in California, Fibershed.," it says. "With every purchase on Made Trade, you are also contributing 1% to this incredible movement to create regional and regenerative fiber systems and to support carbon farming that helps combat climate change."
Other significant eco-friendly online marketplaces
There are many superb sustainable Amazon alternatives on this ever-expanding worldwide web. And I love them. If only for their effort to stop making us buy wasteful, toxic, polluting items this planet doesn't need. And we don't need either. I'm not going in-depth about them all. But here are a few other eco-friendly alternatives to Amazon for you to check out.
VivaTerra: the name means 'living earth'. VivaTerra sells the ultimate sustainable home decor in all kinds of styles. And made from natural materials like glass, wood and stone instead of plastic.
Mighty Nest: great shop for your everyday essentials and reusable products. You can buy individual items or subscribe to specially tailored boxes that bring you everything you need without the hassle of ordering renewals in time.
So forget about big, polluting, worker exploiting, plastic soup creating companies and choose eco-friendly alternatives for your online shopping. All according to Wasteless Planet's motto: buy nothing or buy green!