Last updated on October 24th, 2022 at 05:05 pm
There can't be a healthy, sustainable planet without justice and equal opportunity. We are a long way from such a world. So, we need to work harder. I need to do better. Reading about and learning from the Black Lives Matter movement made me realize that merely not being racist isn't enough. I need to make conscious choices in who I work with, who I spend my money on, and who I promote.
A look in the mirror
That's why I had another look at the eco-friendly brands Wasteless Planet partners with. My criteria for promoting them and sharing their ads on Wasteless Planet is all about not ruining the earth. And about improving it instead. So they need to be eco-friendly, use sustainable resources and packaging, be non-toxic and cruelty-free, and preferably give back to society. But I didn't think about checking if their team was diverse enough. Not until now.
Saving our planet and civilization is going to take as many of us as we can unite. People of color are hit the hardest by climate change, in many ways. We can't create the right solutions without hearing the people who are affected the most. I'm not diving into that specific subject right now: you are much better off with experts at the NAACP in this article.
A look at my partnerships
To be able to listen to people of color, I need to connect with them first. That's why I'll start to actively look for affiliate partnerships with more diverse brands. Diversity is broad. For this article and in the light of recent protests about violence against black people, I concentrate on people of color being represented. But in future partnerships, I'll also take into account diversity in gender, age, and disability.

In the current list of affiliate brands I partner with, some were clearly more diverse than others. As far as I could tell. Turns out, many brands don't offer much information on their websites about who owns the company and who is on their team. It will take some inquiring to find out about their diversity. But let me introduce you to the brands that stood out as the most diverse of my partners.
I'm going to link to these brand's websites, so you can check them out yourself. I'm an affiliate with all of them. If you buy something with these companies using my links, I'll get a small percentage. It will cost you nothing extra, at all. But it helps me keep this website up and running. And that means a lot to me.
Mighty Nest
The most diverse team on my list is working for Mighty Nest. At least half of the employees are female. That's always a plus for me. Now let's take a look at the founders and owners of Mighty Nest. It's a white couple: husband and wife Chris and Kristen Conn. But they hire well. Nearly half of their team is formed by people of color. The downside is that they are not in management. Only white faces there. I'd love to see that change if jobs open up in leadership.
Love Goodly
The team that keeps Love Goodly running is a small one, but a good one. It's just four people, all women. You might argue that it's not very diverse to have no men in your team. But men are still over-represented in corporate life and leadership, so an all-female team sits fine with me. The founders and owners are Katie and Justine, both white. But to my joy, the other two team members are women of color. That makes it a 50-50 rate, which is an excellent ratio, especially for such a small team.
100% PURE
It's hard to tell how diverse the personnel of 100% PURE is because approximately 200 people are working for the company. They grew big. So that would take some inquiring that I didn't have time for right now. But the founders of 100% PURE clearly make a diverse trio. The brand was created by Asian-American Susy and James Wang, a sister and brother, together with her boyfriend at the time Ric Kostick. Together they've built a brand of sustainable products and give back to several charities. (This affiliate partnership has ended Februari 1, 2021)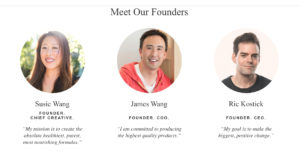 ShareASale
On Wasteless Planet, you see adverts and affiliate links to at least a dozen eco-friendly brands. Many of them are a member of the affiliate network ShareASale. Most pictures of management show white faces and mostly male. But the overall team is more diverse. At least half of the employees are women, and half of them are women of color. It could be better, but it's a good start.
Help me find my way
Like I said at the beginning of this article: I'm going to actively look for eco-friendly brands owned or run by people of color. Or brands that, at the very least, hire a diverse staff. I've already applied to several companies, but it may take a few weeks before I get approved or rejected. It's exciting to introduce you to the ones that already have connected with Wasteless Planet: meet these diverse and black owned brands!
But I'll gladly take your help. I'm an affiliate, so I'll need brands with affiliate programs that want to work with Wasteless Planet. If you know one that you think would be a great fit: drop me a line. If you are a diverse entrepreneur who wants to work with me: contact me. I love making new connections.