Yay! How wonderful it is to tell you about even more new partnerships with diverse and black-owned brands. Last month I introduced you to the first new partners that you can meet in this article: Meet these diverse and black owned brands! Today let's meet the latest additions to the Wasteless Planet community. Open your hearts to OUI the People, and Back Beat Co.
OUI the People
OUI the People has paused its affiliate program in July 2021
If you're looking for an eco-friendly shaving routine, check out OUI the People. This sustainable brand was founded by Karen Young. She resists the narrative that women need to be flawless, perfect, and never visually aging. It was her key motivation to start her company. "We believe beauty shouldn't come at the expense of our psyche. Rather than pursuing flawlessness, we aim to build efficacious products, designed thoughtfully, that help you feel great in the skin you're already in."
OUI the People sell stainless steel reusable safety razors and skincare products to complement your shave. They use stainless steel because it's the most recycled material on earth. The refill blades are nickel-free. You can store them in a container and drop the used ones at a recycling center. Their skincare products are natural. That means no phthalates, parabens, formaldehyde, petrolatum, or synthetic fragrances. You can have a shaving routine that fits your eco-friendly lifestyle.
Back Beat Co.

California based Back Beat Co. is founded by Isadora Alvarez. She started her fashion career in Manila, the Philippines, where she opened a store and created a clothing line. Alvarez moved to California and founded Back Beat Co. Her lifestyle brand sells apparel and accessories made from low impact fabrics. That means the materials are recycled or sustainably farmed, like recycled cotton, hemp, organic cotton, and Tencel.
Back Beat Co. is about comfort and easy-going style: modern looking classics inspired by old school California surf'n'skate culture. And sustainable, of course. "Our promise here at Back Beat Co. is that we consider every step and every thread, from sourcing to shipping," the brand explains. "We want to be easy on the planet for easy wearing and easy living."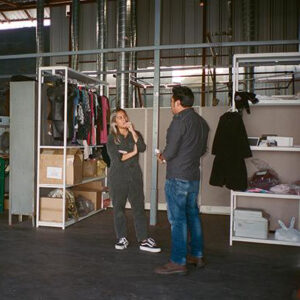 When you buy products using links on this website, I may get a small amount of money. It will cost you nothing extra! But you would help me keep this blog going and you would make me happy. Thank you!
Support diverse and black-owned brands
Your money is a powerful tool for change. If you are conscious about where you spend it, you show the world what matters to you. Companies respond to that. The better we pick the brands, the more shops will fill their shelves with these products. The more we buy from people of color owned stores, the more companies will want to work with, sell from, and hire people of color. Support the right brands, and they will rise.