Your hair is dealing with a lot on a daily basis. Dry office air, pollution and smog, toxins and chemicals in shampoos and laundry detergent, rough combing and brushing, heat styling and dry blowing. After the summer it seems to be even worse, with the bleaching from the sun and the swimming pool chlorine making your hair look like a tumbleweed.
If your hair isn't the shiny, healthy way it used to be, it's high time to repair your damaged hair. And naturally, here at Wasteless Planet, you'll learn how to repair damaged hair naturally.
When your hair isn't damaged, skip the steps below and go straight to 25 eco-friendly ways to keep healthy hair. That article is all about maintaining your great head of hair in an all natural way.
When you buy products using links on this website, I may get a small amount of money. It will cost you nothing extra! But you would help me keep this blog going and you would make me happy. Thank you!
Read your labels
You might start by taking a look at the products you are using. Maybe you already switched to organic or all natural products. But even those may contain ingredients that don't do your hair any favors. You are better off using products without alcohols, sodium and sulfates. The same goes for glycerin and silicons. These ingredients could make your hair dryer. You can moisturize all you want, but if you keep using products that have the opposite effect, you are getting little result.
Shampoo less often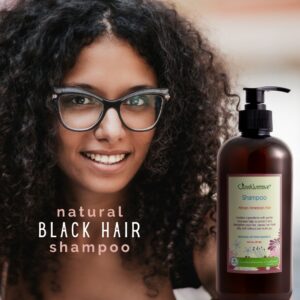 Next step, is to shampoo less. You don't need to wash your hair with shampoo every day. Water alone will do the trick most of the time. You only need shampoo to remove dirt. When shampooing too often, you risk washing out the oils that protect your hair. Shampooing your hair once or twice a week is more than enough.
I used to wash my hair every other day, because it would be greasy. Until I read that washing it often made my hair go greasy fast. So I started to wash every third day. At first, I walked around with greasy hair for a day. But after a week or two, that changed. So I added an extra day and went through the same cycle.
For me, shampooing once every 5 days turned out to be a great sequence. Unless I've been doing filthy work, of course. Then, I wash it immediately and return to my 5 day cycle after.
Trim the split ends
No matter what manufacturers of hair products say, there's no good way to repair split ends. The best way to handle split ends is to trim them. Cut off the tips that are beyond repair and your hair will immediately look fuller and healthier. A hair dresser knows how to handle split ends the best. But if you prefer to do it yourself, make sure you use a very sharp pair of scissors. Blunt scissors will only damage your hair more.
Reduce heat
Heat exposure is bad for your hair. If you don't want to damage it any further, you need to reduce the amount of heat you use on your hair. Do as little as you really need to do. Stop dry blowing your hair so much. Your hair is extra vulnerable when it's wet. Wrap your hair in a soft towel instead, like bamboo towels or organic cotton ones. Don't rub it dry, just let the wrapped towel absorb the water. Stop using heat-styling tools. And don't use chemical treatments. Simply let your hair be whenever you can to avoid damage. Or use softer methods for styling, like curling your hair with foam rollers.
When you do need or want to use heat-styling equipment, make sure you protect your hair first. Cover your hair with a heat protector first. And set the tools on a low temperature instead of turning up the heat.
Moisturize and condition with food
When it comes to repairing damaged hair naturally, food is an awesome resource. You'll be surprised how much you can do with everyday items and things you already have in your kitchen anyway. Avocado, butter, olive oil, tea, vinegar, egg, coconut oil, banana and mayonnaise. These are all great foods that can do wonders for your hair. If you want to deep condition overnight, wrap your hair in a soft scarf. Satin is the best fabric to keep your hair from damaging, but any soft fabric will do.
Avocado
Take an egg and a ripe avocado without the pit. Mash them up together. Wet your hair and spread the avocado-egg cream all over it. Leave it for at least 20 minutes before you rinse it a couple of times. To repair your hair, repeat it once a week. When your hair is healthy again, use it once a month.
Olive oil
The least processed olive oil, is the extra virgin oil. That's the one you want for your hair. Warm up 2 teaspoons of olive oil. If you heat it a bit, it's easier to use. Massage the warm oil through your hair, than comb with a wide-toothed comb. Put on a shower cap and let the oil soak in. Keep the cap on for at least 15 minutes. Or sleep with it, if you like. When you take of the shower cap, wash your hair and dry it. You can do this once a week.
Tea
Various types of tea can be good for your body and mind in many ways. Not just by drinking it. Tea can help you get beautiful shiny hair when you use it as a moisturizer. You brew the tea as normal and let it cool. Used your regular shampoo to wash your hair, than use the tea in between the shampoo and the conditioner or as a final rinse after the shampoo. You could also let the brew cool overnight, making it a much stronger tea. Tea is known to have an effect on your hair color. So if you're a brunette, go for black tea. If you're a blonde, try lighter herbs like chamomile.
Mayonnaise
A few tablespoons of mayonnaise can go a long way conditioning your hair. It's especially great for dry hair. The oil in the mayonnaise can make your hair shiny again and moisturize it. You can use it as is: just rub it onto your scalp and work your way down from the roots to the tips of your hair. Leave it for about half an hour, than wash and condition as you usually do. You could add an egg to the mayonnaise to help clean your hair and seal in the moisture. You probably figured out that this can be a messy mixture and choose to wear an old shirt when you use it. To see lasting results, you need to use the mayonnaise treatment once a week for several months.
Moisturize and condition with natural products

If making your own food mash up is a step too far for you, you could always turn to ready-made products. Be sure to use moisturizers and conditioners made from organic ingredients or at minimum all natural ingredients. You're not doing your hair and scalp any favors by using toxic chemicals. And the planet is better off without those too. Win-win. The same goes for products for hair repair: go organic and natural for the best results.
Moisturize your natural curls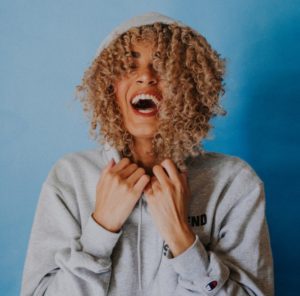 Natural curls may need some extra attention. I love curls. And I love how more and more women of color are transitioning to natural hair. Just Natural Skincare has a line of natural products especially for natural curls and for transitioning to natural curls.
Lisa from Napturally Curly has great tips for women of color with natural hair. Read her blog post about moisturizing dull and dry natural hair for remedies to repair your curls. She doesn't just share her own experience and advice, she also offers some awesome and funny hair t-shirts. Be sure to check them out.
When nothing works
The last resort. Yes, you feel it coming don't you?! If nothing works for you or the damage to your hair is too much to handle, you can always cut it. Sometimes there's nothing better than to cut your hair back into a short feisty coupe. Because after all, hair grows back. And it will be healthy and stronger than when you keep trying to repair it. Once you've cut it and regrow it, make sure you take better care for your hair than before.
When the repairing is done
Next blog post, I'll share ways to keep healthy hair. After you've gone through all the trouble to repair damaged hair naturally, you'll want to keep it in great shape. So get the Wasteless Planet tips and tricks to help you take care of your hair from now on: 25 eco-friendly ways to keep healthy hair.
In the mean time, let me know what works for you and how you repair your hair. Drop me a line in the comments below. I'd love for you to help out others with your best tips for hair repair.