You know that feeling, looking in the mirror on a good hair day? Empowering, right?! Some people go to great lengths to keep their hair in superb condition. First thing to remember is: companies that sell hair products, will want you to use it as much and often as possible. Duh, right?! And yet, we seem to forget. Many people wash their hair daily, simply because the label tells them to do so. Don't fall for marketing that easily.
There are numerous ways to keep healthy hair. Of course, the all natural ways to keep healthy hair are the ones that fit your eco-friendly lifestyle the best. Let me give you a few sustainable tips and tricks to keep you hair healthy, strong and beautiful. The tips in this article are about ways to keep healthy hair. Meaning: your hair is healthy already, you just want some all natural ways to keep it that way. If your hair is damaged, check out my article on how to repair damaged hair naturally. Get your hair back in shape and return to this article to keep it that way in the future.
When you buy products using links on this website, I may get a small amount of money. It will cost you nothing extra! But you would help me keep this blog going and you would make me happy. Thank you!
Your scalp matters
If you want to keep healthy hair, you need to take care of your scalp. That's right: it's not just about your hair. It's in the roots where the health of your hair begins. Using hair products is all about the outside. Taking care of your scalp and the hair follicles is working from the inside out.
Use a soft brush for your hair and make gentle strokes over your scalp. It stimulates the blood flow and helps get your hair follicles the nutrients they need. Or use an oil treatment to relax the skin on your head. Another way to take care of your scalp is to wash your hair less often. Which brings us to the next tip.
Shampoo your hair less

If you use shampoo every day, you wash away the protective oils and your scalp may start to feel dry and itchy. At the same time, it can make your hair get too oily. Because, oil glands will start working harder to compensate the dryness. It's fine to wash your hair with just water. In fact, it's better for your hair if you only use shampoo 2 or 3 times a week.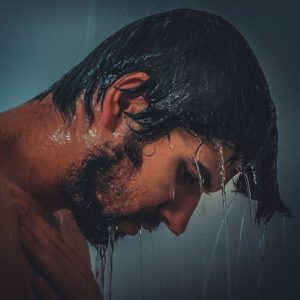 When you start shampooing less, it might take some getting used to. I'll be honest with you: at first it may feel like your hair gets worse instead of better. It can feel a bit sticky or greasy. That's because your scalp has to adjust to the new routine. If you see it through, you'll notice the improvement after a few weeks. Your hair will feel stronger and healthier.
If you wash with shampoo daily and want to reduce, do it in steps. Try every other day for 2 weeks, then once every 3 days for 2 weeks, then once every 4 days for 2 weeks. And see what happens. Find the rhythm that best suits your hair type; it's different for everyone.
I managed to reduce it to once every 5 days. That works for me, but you might prefer another rhythm and that's fine too. No need to overthink it. It took my hair several weeks to adjust, but the stickiness and oiliness has gone completely and my hair feels soft again.
Ditch your plastic hair brush
One of the most common brushes sold and used are the plastic ones with knobs. Cheap, that's true. But not the best brush for your hair. You need to pull those knobs through your hair, when the brush should glide through. It can damage your hair so that you'll have split ends faster.
If you like to use a brush, try one with soft bristles. So switch from plastic to natural ones, like those made out of boar hair. They are softer, doing less damage to your hair and stimulating your scalp at the same time. But don't brush it straight out of the shower: wet hair is fragile and easier damaged.
Even better than a brush is a wide-toothed comb. Especially when your hair tangles easily. Trying to get a brush through your tangled hair might take some force. It can break your hair or make it split. Instead, use a omb with wide teeth. And use it gently: start at the tips of your hair and work upwards through the tangles. You could even start without comb and loosen the knots with your fingers first. Then finish with a wide-toothed comb.
Switch to all natural products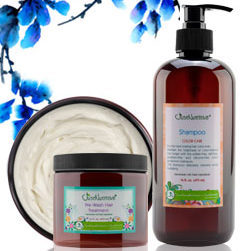 Harsh chemicals aren't your friends when it comes to keeping healthy hair. All natural or even organic products are better in the long run. Like the organic shampoos and conditioners in refillable aluminum bottles by Plaine Products. Although even with those products, you better read your labels first. Because, even those may contain ingredients that don't do your hair any favors.
You are better off using all natural products without alcohol, sodium and sulfates. The same goes for glycerin and silicons. These ingredients could make your hair dryer. You can moisturize all you want, but if you keep using products that have the opposite effect, you are getting little result.
Use the right shampoo for your hair
Take some time to find the right kind of shampoo for your hair type. Maybe your hair isn't fussy at all and looks shiny and strong no matter what organic shampoo you use. But some hair types could use a little help. For instance: when you color your hair, find a shampoo for colored hair, when you're a person of color with natural hair, find a shampoo fitting for your natural hair and if you've turned grey, use a shampoo fit for grey hair. The right kind of shampoo might be just the nudge to keep healthy hair for a longer time.
Use non sticky products
In your younger years, all the mousse you use may work great for styling your hair. When you are young, your hair is thicker. When you get older, your hair gets thinner. When that happens, you don't want to put heavy, sticky mousse or pomade in your hair. It will take too much force to brush your hair when you use sticky products. And if you have to pull through your hair too hard, you hair will get split ends or even break.
It's the same with products that make your hair stiff and hard. It will be so much easier to break. The thinner the hair, the bigger the risk with products like that. Use lighter products instead. Switch the sticky stuff for gentle volumizers, a serum or maybe try a hair tonic.
Use the right amount
Only use the amount of produce you need. And you probably need less than you think. If you use a lot of cream, serum or spray, maybe even put layer upon layer, your hair will get too heavy. It might lose its shine too and look duller. The exact opposite of what you're trying to achieve with all these hair products in the first place. Use less and gain back your light, bouncy hair that shines.
Stay away from hot water
Wash and rinse your hair with cold water. Not ice-cold, but lukewarm warm at most. Hot water, just like hot tools, are hard on your hair. It makes it dry out and if your hair is colored, your color will fade faster. Hot showers can cause your hair to split at the ends or become all frizzy. Lukewarm showers are better for your hair. And for your skin too, so that's a little extra.
Wear your hair down
Wear your hair down as much as you can. It's hard on your hair if you pull it tight into a pony tail every single day. It could even make you lose hair in your front hairline, because you are putting too much pressure on the hair follicles. Try to wear your hair down as often as you can. And when you do wear a ponytail, don't make it tight.
If you love wearing your hair in a tight bun or ponytail, because that's your style, only do so in public. Take it out for at least a few hours a day. Simply give your hair and scalp some time to recover every day. And to tie up your hair, switch to a hair tie made of soft fabric. It's much less damaging than a tight elastic band. Try the plastic-free Kooshoo hair ties, made from organic cotton.
Keep the sun off your hair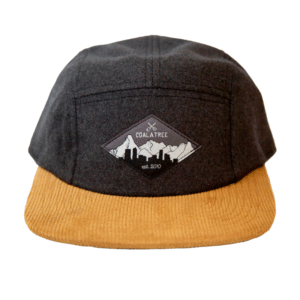 You need to protect yourself from the sun. That doesn't go for you skin only, it goes for your hair as well. Your hair doesn't burn or turn red like your skin does. But in a different way, the sun can be just as brutal on your hair. UV radiation can make your hair dry and it can cause your hair color to fade.
The best way to prevent that, is to keep the sun off your hair: simply use an umbrella or wear a hat or a cap. I love the hats with those big, wide brims. Not only do they look classy and protect your hair, they also keep the sun out of your face. Win-win-win: protects your hair, protects your skin and makes you look ever so stylish.
Don't freeze your hair
It may sound like 'too logical to mention' kind of advice, but still: don't go outside with wet hair when it freezes. You better cover up your wet head when you go out in winter. It's not good for your hair at all. Wet hair easily freezes. When frozen, it can break or get brittle.
Protect your hair from pollution
This one falls into the 'easier said than done' category. Pollution and toxins are in the air everywhere. You can't really avoid contact with air pollution in our western world. It can damage hair cells and make hair age faster. You can use products to protect your hair, use it like a sort of shield. Like protect sprays or shield hair creams. Other than that, all we can do is work hard to stop polluting our air. Spread the eco-friendly lifestyle.
Use less heat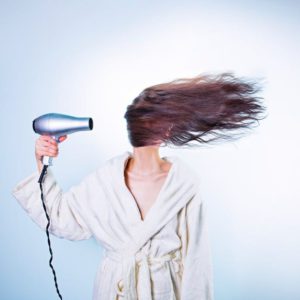 You can do your hair a big favor if you stop heating it so much. Use your curling iron or straightening iron less. Give your hair a break and save that kind of styling for special occasions.
The older you get, the dryer and more brittle your hair becomes. Heat from those hot tools makes your hair even less moist and less soft. So don't use these tools if you don't have to. For example: air dry your hair instead of blow-drying it.
If you do use hot tools, don't turn on the heat to the max. Put them on a low temperature, a low setting. Be kind to your hair and scalp. You could also use a heat protector first. You put those on your hair before you start applying heat to it. That should help. But no heat is always better.
Ditch the harsh chemicals
Harsh chemicals are not your hair's friends. Try to avoid getting a perm or dyeing your hair. Dye, bleach, straighteners or curlers can do a lot of damage to your hair if they contain harsh chemicals and if you use them to often. Especially when you use more than one at a time, like dyeing your hair and getting a perm at the same time.
Protect your hair from chlorine
Protect your hair when swimming in chlorine pools. Wet your hair and condition it before you go swimming. Wear a swimming cap that fits tightly around your scalp. You can use special shampoo and/or conditioner for swimmers. Those products help your hair stay moisturized and reduce drying out after the chlorine exposure.
Wrap your wet hair
After a shower or a bath, wrap your wet hair in a soft towel. Don't rub your hair dry. Let the towel absorb the water instead. Your hair is fragile when it's soak en wet. Rubbing it can cause damage or make your ends split. If you want to get rid of the water faster, you can squeeze your hair and wrap a soft towel around it. When most of the water has been absorbed by the towel, remove it and let your hair air dry.
Do not brush your hair immediately after washing or rinsing it. Like I said, wet hair is fragile. Brushing it when it's still very wet will easily damage it. So if you want to brush or comb your hair immediately after showering, use a shower cap and keep your hair dry.
Humidify your hair at night
Indoor air can be very dry, especially when the heating is on. That goes for the air in your home, but also in office buildings or schools. Moisturizing your hair with oil treatments aren't the only option. You could also use a humidifier. A machine like that can put moisture back in the air and prevent your hair from drying out.
Wash close to your scalp
When you wash your hair with shampoo, wash close to the scalp. Gently massaging the shampoo into your scalp helps your blood circulation. When your hair follicles receive enough blood, they'll grow stronger hair. The shampoo will run down from your scalp to your hair anyway, so no need to shampoo all of your hair.
Wash close to the scalp and run your fingers through your hair, spreading the shampoo all over. The tips of your hair are the oldest and most dry parts of your hair. They do better without much shampoo and need conditioning more than they need shampoo. No need to use too much product. Less is more.
Condition with oil treatments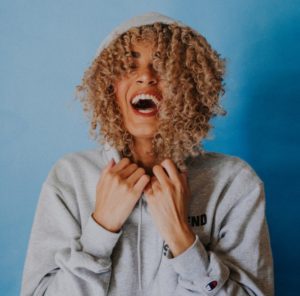 Give your hair a weekly treat with deep conditioning. Oil is a great product to condition your hair with. Olive oil, mayonnaise, egg: food is the best ingredient for your home made conditioners by far. It doesn't get more natural than that, right?! Check the article about how to repair damaged hair naturally for recipes on how to make and use your own all natural conditioners and moisturizers.
Home made products are not everybody's cup of tea. If you prefer to buy products instead of making them yourself, check the ingredients on the labels. Pick conditioners and moisturizers with organic or all natural ingredients. You're not doing your hair and scalp any favors by using toxic chemicals several times a week. And the planet is better off without those too, obviously. So here's another win-win situation: ditch the toxins.
Use the conditioners on the tips of your hair, not on your scalp. They are made to seal of the hair and keep the moisture in. Your scalp doesn't need that. Too much conditioner on your scalp could make the skin greasy. It's the tips of your hair that need the conditioning the most, to avoid split ends.
Eat the right food
The things you eat can help you keep healthy hair. Some food nourishes your hair. Nutrients that are good for strong, shiny, thick and healthy hair are protein, vitamin B, iron and omega-3. Among others. Get your protein from fish, eggs and green vegetables like kale and spinach. Vitamin B can be found in fruits, vegetables and raw nuts. To get iron, turn to green leafs like spinach again. For your omega 3's, eat salmon, walnuts and avocado's.
Great Britain s public broadcasting company BBC put all food types and their benefits together in this article: What to eat for healthy hair. Emma Lee from Haircareology has some great food advise and matching recipes too. You can find them in her article Everyday Foods for Healthy Hair.
If it's hard for you to get enough nutrients in your every day food, you can supplement with vitamin pills or drops. Some vitamin mixes are specially selected to make your hair stronger. Find brands that don't use chemical adhesives like coloring or shiny layers for their pills.
Stay hydrated
Nutrition is important for healthy hair and so is staying hydrated. Drink enough water. Water helps to keep your hair follicles healthy and you need them to grow new, healthy hair.
Dehydration can cause hair loss, if it continues for too long. No worries if you didn't drink enough for a day or so. But don't make it a continuous thing.
If you keep drinking too little water, your body will use it for vital organs only. To your body, your hair isn't a first priority. And when your hair follicles don't have enough water, they stop making new hair.
If you have a choice, go for natural spring water or mineral water. Those types of water contain healthy minerals. Distilled water is fine, but usually has fewer minerals in it. Depending on where you live, tap water is great too. But water quality can vary, so if you think your tap water isn't the best, use a carbon filter to improve the water quality.
If you're not a big fan of drinking water, try to spice it up. Add flavors you like to your reusable water bottle. Put in things like cucumber, lemon, fresh fruit or mint. If you want to make it taste more like a soda drink, add some bubbles with a system like Sodastream. Whatever it takes to make you drink enough water during the day.
Get a trim regularly
Get a regular trim. Cutting your hair helps to keep healthy hair. Maybe you don't want to get a hair cut every 6 weeks or so. That's fine, but at least go and get a trim as soon as you see the ends start to split. A good hair cut can prevent your hair from splitting, or from splitting further. Your hair will break less easy and look much healthier and better.
Make sure your hairdresser, or whomever cuts your hair, uses a very sharp pair of scissors. Blunt scissors might damage your hair and make it split even faster. Trimming is great and healthy, but only if you trim it right.
Braid long hair while sleeping
Sleeping with long hair can have you wake up with knots and all frizzled. That means that your morning starts with some heavy-duty brushing or combing. And by now you know that pulling your hair and rough brushing can be damaging to your hair. You can avoid that by braiding your hair before bedtime. Of course, like with pony tails, it's best not to braid it too tight. It's better to braid it loosely and to the side. You could also sleep with a soft headscarf instead of a braid.
Use soft pillow covers
Make sure your pillow covers are soft and smooth. Materials like bamboo and satin work well with your hair, because their textures aren't as rough as cotton or linen. Soft pillow covers cause less friction on your hair and scalp. Less friction means less chance on damage.
A good nights sleep is great for your health in general and off course it helps to keep healthy hair as well. Remove the toxins from your bedroom and switch to organic fabrics for your bed linen. You spend a third of your life in your bed. So you might as well make sure it's a healthy environment.
Use soft scarfs
To give your hair a break from tight pony tails or tight braids, use a headscarf. Again, not a tight one of course. But a loosely wrapped scarf. Choose a soft material like bamboo or silk. Nothing like a soft scarf with beautiful patterns or colors to bring a smile to your face. Your hair will love it too: no stress or pressure.
Keep healthy hair and do it naturally
With 25 tips and tricks to keep healthy hair there's always a few that will work for you. Let me know if you've got even more tips in the comments below. Or tell us if you use any of the methods in this article and how it's working for you. If you've got any questions, put them in the comment box as well. Good luck with keeping your hair healthy, strong and beautiful!