Last updated on October 24th, 2022 at 05:20 pm
Have you ever stared at a beautiful aged wine barrel and wondered if you could find use for it somehow? Let me give you a splendid idea for reusing and even upcycling them: reclaimed wine barrel furniture. How fun is that?! You can make wine barrel furniture for your home, of course. But it's the season for being outside in the garden. So why not find some old barrels and repurpose them for your eco-friendly outdoor living.
When you buy products using links on this website, I may get a small amount of money. It will cost you nothing extra! But you would help me keep this blog going and you would make me happy. Thank you!
Your eco-friendly lifestyle doesn't stop at the door, right?! It's extended into your garden or onto your apartment balcony. That's why I love to share this stunning outdoor furniture with you, that I recently spotted at VivaTerra, a great shop for your eco-friendly lifestyle.
VivaTerra's reclaimed wine barrel furniture will look good with many styles, both indoor and outdoor. You can choose for pieces that still have the look and feel of a barrel. Or you can go for the more subtle style that doesn't reveal it's legacy at first sight. Either way, you are making a sustainable choice for your garden: buying reclaimed wood means there's no need for chopping down more trees and less waste.
Every barrel has a story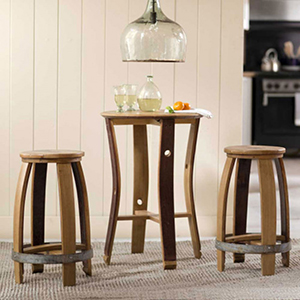 You can have a soft spot for the bold aged look that gives this furniture a bit of edge. And if you're anything like me, you'll love that this furniture has a story to tell: there's a bit of history in every piece. Don't you just love furniture that's made of something entirely different? Upcycling is good for the environment, sure. But it's also so much fun to see what creative minds can do when they transform one thing into something completely different. It's amazing.
Do it yourself
If you like some DIY and want to roll up your sleeves, you can start a reclaimed wine barrel project of your own. Think about all the things you could build using a barrel. Probably the easiest projects would be using them to collect rainwater for your vegetable garden. Or cutting them in half and turning them into planters or coffee tables. But your imagination can take a barrel much further. Chairs, beer chillers, iPad stands, bar tops, cabinets, dog houses, swing sets. Go wild and upcycle them anyway you want to. You'll have to do some research online to find used wine barrels in your area, but there are places that sell them. Like Material Resourcers in Utah that sell both wine barrels and whiskey barrels.
Eco-friendly lifestyle shop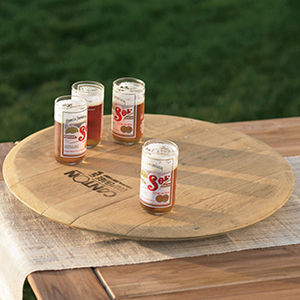 If you aren't into DIY or don't have time to build reclaimed wine barrel furniture from scratch, you should take a look around at the outdoor collection of VivaTerra, an inspirational eco-friendly lifestyle shop.
From a rustic bistro set and deck chair to a sophisticated cook book stand and Lazy Susan, you'll find stunning pieces that suit your eco-friendly lifestyle. You'll be surprised what you can do with a wine barrel, apart from emptying it one glass at a time. Cheers!