Last updated on October 24th, 2022 at 05:46 pm
Being one of my reusable sandwich bags is no joke. You'll get tossed around like a soccer ball. You'll be stuck in hand bags, lap top bags and other carriers. You'll be squeezed, get dirty and be sat on. Sometimes you'll even be licked (I mean, who could possibly leave melted chocolate behind, right?!). Wash. Dry. Repeat.
When you buy products using links on this website, I may get a small amount of money. It will cost you nothing extra! But you would help me keep this blog going and you would make me happy. Thank you!
Recently I came across an old invoice. It's been over 7 years since I bought my reusable sandwich bags. They are Lunchskins and they've proven to be Bianca proof. They show their abuse, of course. Try to stay in your best shape and look sharp when you've been handled so roughly… But they're still here. Doing their job absolutely fine. I'd say: well worth their money. Let's get into a bit more detail about Lunchskins and about my experience with them.
Heavy load
In my former life as a radio reporter for a news station, I was on the road a lot. Many days, my lunch was me sitting in my car, eating the sandwiches I brought with me, while waiting for my next interview. Those were the more luxurious ones. Because many times, I would be walking that day. Walking while carrying all my radio equipment, heavy bag on my shoulder and microphone in hand. And on those days, I wasn't too fond of my lunchbox. It was big and heavy, even when I finished eating everything in it.

Disposable plastic sandwich bags used to solve most of the problems for years. Lunch didn't weigh nearly as much, the plastic bags took less space and after use they hardly weight anything at all nor took any place. And yet I never liked it. I never liked using things once, or throwing things away. I tried to keep the bags clean and tried not to tear them, so I could use them a few days in a row. And then I saw the colorful Lunchskins with happy prints. Instant love.
What I love about Lunchskins
Lunchskins offer me the same up sides disposable bags do. They are light weighed, easy to use or to squeeze in a small space in your bag and when empty they are thin as a napkin. They can handle messy sandwiches or snacks, because of a great coating on the inside. But above all, they are reusable. I've been washing them in the dishwasher all this time and put them on the counter top to dry.
So here are all the good things:

Light and easy to tuck away in small spaces
Reusable
Durable, they last for years, obviously
Waste less plastic (on average 500 plastic bags per Lunchskin)
Saves you money in the long run
Dishwasher proof, easy to clean
Coated with a food-safe liner, so grease- and moisture proof
Toxin-free, no BPA
Fun patterns and colors
Easy to open and close, either with Velcro or zipper
Different sizes
Different models
50 cents from every order go 5Gyres, to help fight plastic pollution in our oceans
When you want a new lunch bag, Lunchskins will recycle or repurpose your old ones
What I dislike about Lunchskins
There's not much that I don't like about Lunchskins. I've been happily using them for years. My least favorite things about them is the Velcro to close the bags. Somehow I always manage to get the Velcro messy. When I bought them, Velcro was all I could buy. Nowadays you can also get Lunchskins with zippers. I haven't tried them yet. But I'm curious if I like zippers better and if I can keep them cleaner during the day. Here are the things I'm less fond of:
Velcro to close the bags (zippers available now too)
Bread gets dry a bit faster than in a lunch box or container
Butter, chocolate paste, jelly and things like that tend to stick to the inside
Colors fade away in time (the downside of them being durable for so long)
Lunchskins Models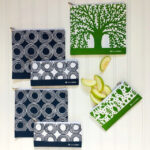 Lunchskins come in different models, sizes, patterns and colors. You can take your pick. I had two different size lunch bags: one for bread, one snack size. But you could also go for the slightly bigger lunch tote. You can take a look over here to see which ones of the Lunchskins you prefer. I'm kinda falling in love all over again. With the zippered bags this time. Hard to chose between the bright green trees and the charcoal circles.
Other brands
If you think Lunchskins may not be the right brand for you after all, do an online search for 'reusable lunchbags' to find other brands and other types. Maybe you prefer a bigger bag that can hold both your meals and your drinks. Or you want an insulated one to keep your food cold, or hot. Any kind of reusable lunch bag is an immediate upgrade from disposable plastic ones. And an immediate improvement in your eco-friendly lifestyle.
Handy little extra
Depending on how much room is left in the dishwasher, sometimes my Lunchskins are still a bit moist after they're done. I always open them up a bit and put them upside down on the counter top to dry. Not very pretty and somewhat space consuming. If you don't want that, you can go for the classy way. Dry yours on a bag and bottle dryer. They look great on your counter top and give your Lunchskins space to air dry.
Alternatives
If your lunches are bigger than a few sandwiches, or you prefer salads, soups or hot meals, Lunchskins probably aren't right for you. When I pack salads for lunch, I prefer lunch boxes or containers. My salads are big, so a small lunch bag won't cut it. A great alternative for plastic containers are the stainless steel ones. More expensive, but sustainable, durable and usually much cooler or even prettier. Make sure you choose the leak proof lids, like the ones in the link above, to avoid a big mess.
At home, I also use glass containers. I don't take them on the road, because they're way too heavy for that. But I love them for left overs, extra pasta sauce and everything else I want to put in the freezer. What I love about them, is that you can take them straight from the freezer to the oven (remember to take the lid of first). So convenient. And glass is clean, odorless and doesn't get color stains.
Conclusion
Even though Lunchskins may have a few minor disadvantages, I love them. I've been using them for years and I'd buy them again if my washed out oldies should ever need replacement. But they don't yet. I think they may go on for a few more years. And that's value for money for sure. Lunchskins get a big thumbs up from me.