When you think about how food affects your eco-friendly lifestyle, the first thing you probably think about is the impact of eating meat. And it's true: reducing the amount of meat you eat has a huge impact on the sustainability of your life. But it's not the only way your food is affecting our planet and the climate. The more food you buy from far away countries, the more polluting airplanes will fly around the globe to bring your food to you. A great way to solve that problem? Start eating seasonal food that has been grown locally.
It's not difficult to realize that eating seasonally is easier in summer when vegetables and fruits are grown in abundance. But how to find seasonal food in winter? It can be a bit of a challenge to find seasonal food in winter, but it can be done. I'll gladly explain more about it later, but let's talk about what eating seasonally even means first.
What is seasonal food?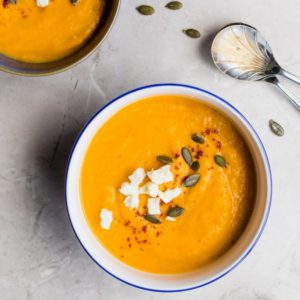 If you follow some eco-friendly lifestyle social media accounts or sustainable foodies, you likely already heard about seasonal food. The basics are simple: eating seasonally means only consuming produce that is harvested during the same time that you consume them. This means focusing your meals around apples, citrus, winter squash, and root vegetables during the winter months.
In the past, eating seasonally was all we knew. Before industrialized agriculture and big grocery stores, it was the norm. There was no other choice than to grow your own vegetables and eat the crops when they were ready to be harvested. Or to buy from or trade with your neighbors if they had grown different crops. Today you can get almost any fruits and vegetables year-round but it comes with a few sacrifices. Industrialized agriculture is needed in today's world due to the high demand but that still doesn't mean you shouldn't try to eat seasonally when you are able.
Benefits from eating seasonally
Here are a few reasons why you'd be smart to eat seasonally year-round as much as possible:
Higher nutrients — Seasonal produce contain the highest amount of nutrients because they were harvested recently and are fresh. The fresher the produce the higher the nutrient value.
Better flavor — Seasonal produce will be more enjoyable to consume because of the flavor. Freshness also contributes to the flavors. Keeping the produce fresh while being shipped across the country is nearly impossible which is why the flavor of the produce will diminish.
More affordable — Being in season means there is an abundance of the crops resulting in cheaper prices. Most people who eat seasonally also purchase their produce from local farmers markets and farmers. This will cut down costs because there are no added fees for transportation of the food nor extra profit margins for supermarkets.
Boost the local economy — Eating seasonal produce is best done by buying through local farmers and farmers markets. This puts money into the local economy and creates more jobs. It also guarantees freshness and provides more seasonal options.
Reduce pollution — Investing in local produce also reduces pollution because of less travel time resulting in fewer greenhouse gasses being released into our atmosphere. That doesn't just go for planes, boats, and trucks that transport the food. It also goes for you: how do you travel to the food market? If your health and the distance allow it, you could bike or hike instead of using your car.

Eating seasonally also allows you to be creative with your foods and have variety. Focusing on foods that are in season might force you to try new foods you never heard of before. At some point, we become stagnant and stick to the same foods each month due to convenience and familiarity. Not only will eating seasonally be better for your health, have better flavor and be more affordable. It will also be fun and exciting. You can find more information about what produce is in season by visiting the United States Department of Agriculture website and search for their produce guide.
Seasonal food in winter
By now you might wonder what exactly are the winter foods that you can find locally. Well, be ready to embrace root vegetables! Root vegetables are exactly what they sound they like. They are the root of a plant that is pulled from the ground and consumed as food. Unfortunately, root vegetables get a bad reputation because of their ugly appearance and dull flavors when cooking incorrectly. You'll need some quality recipes to remedy that.
The best time to experiment with root vegetables is during the winter season because they can be harvested and stored through-out the season. The most well-known root vegetables are potatoes and carrots. Root vegetables also include sweet potatoes, onions, beets, garlic, celeriac, fennel, parsnips, rutabagas, turnips, and yams. It sounds like a pretty good stew to me.
Benefits from root vegetables
If you choose seasonal food in winter, most likely you'll be eating a lot more root vegetables. Don't fight that, embrace it. Here are some excellent reasons why you should embrace root vegetables this winter:
Good for your health — Root vegetables are packed full of vitamins, cancer-fighting antioxidants, and minerals that help reduce inflammation and increase skin health. Most root vegetables are slow-digesting carbohydrates that help regulate blood sugar levels and the digestive system. High fiber foods lower cholesterol and improve overall heart health reducing the chance of cardiovascular disease.
Good for weight loss — The low caloric value of root vegetables is beneficial to people who are trying to lose or maintain weight. Most root vegetables contain high amounts of fiber that help keep you full and satisfied. Reducing the urge to grab higher calorie foods and gaining weight. High iron content helps increase energy levels encouraging you to move around more.
Easy to cook — Although root vegetables look scary on the outside they are quite easy to cook. They can be prepared raw, roasted, steamed, sautéed, mashed and grilled. Root vegetables are a great addition to soups, stews, and casseroles. Potatoes and carrots are great to use as bases for soups.
They are affordable — Popular root vegetables, such as carrots and potatoes are typically the most affordable vegetables you can buy. They go for about fifty cents to a dollar a pound. Making it extremely affordable to add them to your list of staple food items.
When buying root vegetables make sure they are hard and have no bruising or scrapes. They should be stored in a cool and dark area of the house. Don't let the odd appearance and bad reputation of root vegetables prevent you from embracing them. Root vegetables are highly versatile and offer great health benefits. Adding them to soups and stews is a tasty option and helps satisfy cravings and keep you full throughout your day.
How to get seasonal food?
As winter approaches the fear of not being able to buy locally grown seasonal vegetables might be setting in. However, doing so is not completely out of reach during the winter. Time to push your fear aside. It just takes a little extra planning and research on where to go in your area.
Here are a few ways to eat locally and seasonally during winter:
Join a CSA — A CSA or Community Supported Agriculture is a program that allows a community to buy fresh, locally grown produce year-round. Anyone who becomes a member pays a yearly fee and gets their share of produce every week or every other week. This is a great way to ensure you get locally grown and seasonal produce during the winter. It is also convenient, helps support small farms and contributes to the local economy. LocalHarvest can help you find a CSA near you.
Farmers Markets — In some locations across the United States, there are farmers markets that last year-round. If you are not lucky enough to have this option, get to know the farmers before the market closes for the season. Ask if they have any options available during the winter season. Check the LocalHarvest website for farmer markets in your area.
Start Your Own Garden — Starting your own vegetable garden is your best bet at getting seasonal produce. The best part is that its right outside your door and saves you money over time. Winter squash and root vegetables such as parsnips can be harvested during the wintertime. Plan and now when to prepare your garden so you can have plenty of produce during the winter. Need some help getting started? Take a peek at Countryside's website and their best winter vegetables list. With a little planning, research, and dedication eating locally grown and seasonal produce is not impossible. You can get more details on how to prepare your garden for winter vegetables on Wikihow: How to grow vegetables in winter.
Buy seasonal in local stores — If all these options are not available to you, you can buy in-season produce at your local grocery stores. Focus on root vegetables, winter squash, and pumpkins. Staying in season even if not locally grown still provides the best nutrients.
Start planning to get your seasonal food
Like all big or small changes in your life, it will take some effort, in the beginning, to adjust to the new routine. With some new knowledge, some planning and some dedication you'll not only get used to eating seasonally and locally, but you'll also even enjoy it!
Think about all the new recipes you'll try out and all the exciting new flavors you'll experience. Considering you'll also eat healthier, cheaper and more sustainable… I'd say set some goals right now and start eating seasonal food this winter.