We really need the bees. And the bees really need our help. Bees and many other small animal friends are pollinators. Traveling from flower to flower they fertilize plants. Without pollinators, without bees, there is no food. That's right: if we don't save the bees and other pollinators, we end up without fresh vegetables, herbs and fruit. And you can help. In return for your help, you get beautiful flowers. The win-win of an eco-friendly lifestyle.
How you can help
Fall is the perfect time to plan for next spring. Picture your garden or balcony filled with the most pretty flowers. Raising there colorful heads up to the light, brightening your day. Right now is the perfect time to plant your flower bulbs, so that you will enjoy the pretty result in spring time. And this year, think about helping the bees by planting organic flower bulbs. All natural bulbs, without damaging chemicals.
I love to make the world a little better, one step at a time. And I know, it will be much more powerful if I don't act alone. That's where you come in. There is a big impact in numbers.
Every person that changes some habit into a green, sustainable, eco-friendly, slightly better habit is a great help to our planet. One flower bed will help some local bees. Ten flower beds, one hundred, a thousand… Imagine the impact we could have.
Enough of the talk. Here are just a few addresses where you can buy your favorite flowers. All of these shops sell organic flower bulbs in a variety of species, colors and sizes. I know I always get a little greedy and want many more than my small garden has room for. Hey, what can I say, I'm Dutch and that means loving flower bulbs is my DNA, haha. Anyway, good luck on narrowing down your choices.
Natural bulbs

A few years ago Natural Bulbs had a crowd funding campaign and I was sold. I supported the campaign, invested in their company and in return I was granted a pick from their shop. By now, they are a well-established company and also have an English website and ship international.
I planted several kinds of flowers from Natural Bulbs in my garden. In the front of the house there are tulips in pinks and purples and big purple crocuses. In the back yard, under the tree and bushes I put some bright white snowdrops. The few springs since then have been a delight of healthy, strong and beautiful flowers. And a buzzing of bees and pollinators: happy visitors.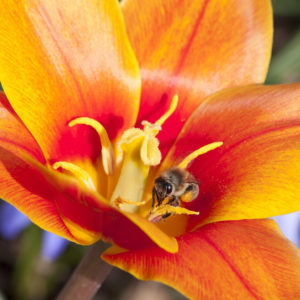 Wicked Tulips
It's all in the name. The tulips on the website of Wicked Tulips are indeed wicked! And so are their other amazing flowers. I'm pretty sure it has nothing to do with my chauvinism, being that many of their bulbs are Dutch grown. Big grin. Ah well, in all fairness: the USA grown ones are all sold out already. Who's grinning now?
No matter where the bulbs were born or where they will be raised, they're all certified organic. And I've fallen deeply in love with the intense dark color of the tulip Queen of the Night. Big sigh of admiration.
Grow Organic
The website of Grow Organic is a vault of knowledge. Not only will you find all kinds of organic plants, bulbs and seeds in their shop. You can also find most everything you need to know about organic gardening in their blog, growing guides and how-to-video's. Grow Organic does justice to the name 'resource center'.
It's clear they not only sell products, they really want to help you become a better gardener. And to help the soil get better, the plants to be healthy and the pollinators to have a ball in your garden or on your balcony.
High Country Gardens
In High Country Gardens you've found another retailer who's all about you, the gardener, and the ways you can take great care of your piece of soil. Either in your garden or in your pots on your balcony. High Country Gardens gives a ton of information on their website. There's a blog and you can even specify what region you live in to get the best plants for your climate. That's great service.
Crocus
Don't let the name fool you. At Crocus, you'll find a lot more than just the pretty crocuses. In their organic section you'll find daffodils, hyacinths, alliums, tulips and others.
A great choice in sorts and sizes. And of course in colors. As I'm writing this, Crocus has an up to 40% off bulb sale. That's amazing. Because let's be honest: you can never have enough flowers in your garden, now can you?! Stock up on bulbs people!
Organic Catalogue
Last but not least. The Organic Catalogue has a lot to offer the eco-friendly gardener. If I were you, I'd take a good look around their website. Because not only will you find loads of information and product for you balcony or garden, they offer a lot of great sustainable gift ideas as well. I love it when I can make somebody happy with a sweet gift that I know is eco-friendly as well.
Share your love for bees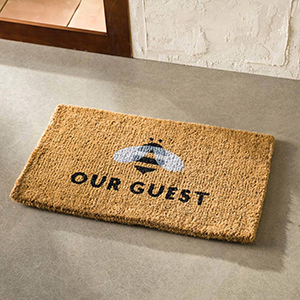 There you go: a fine selection of organic bulb sellers that can make your spring colorful, eco-friendly and a feast for bees. Enjoy your gardening, your spring flowers and your buzzing bees.
Be sure to leave a comment below: I'd love to hear what flowers you chose to plant or what other measures you're taking to help our bees and his pollinator friends.