Last updated on October 24th, 2022 at 05:00 pm
You were promised some more inspirational ideas last time around. Because this set of articles is all about finding inspiration during hard times. Tadaaa, here they are! I'd like to share what inspires me and what I find helpful nowadays. And who! This is an article about self-care, making money, having a laugh, and changing your way of thinking. It's about learning new skills, staying true to your eco-friendly lifestyle, and, last but not least, giving back.
Do you want to check out the first part of this duo? Well, not surprisingly, it's called Finding inspiration during hard times (1 of 2). In that part, I covered:
Self-care is your priority
Money Matters
Find inspiration in ingenuity
These are the topics I'll walk you through today, each with multiple examples and inspirational ideas:
Keeping up with your eco-friendly lifestyle
Spread some love and kindness
Finding inspiration during hard times can be a challenge. I sincerely hope you'll find some golden nuggets in this article that inspire you as much as it does me. Let's go!
Keeping up with your eco-friendly lifestyle

Times of crisis, hardship, illness, poverty, and isolation can be so overwhelming the last thing on your mind is sustainability. You just can't be bothered anymore to think about eco-friendly alternatives, you want to survive the day.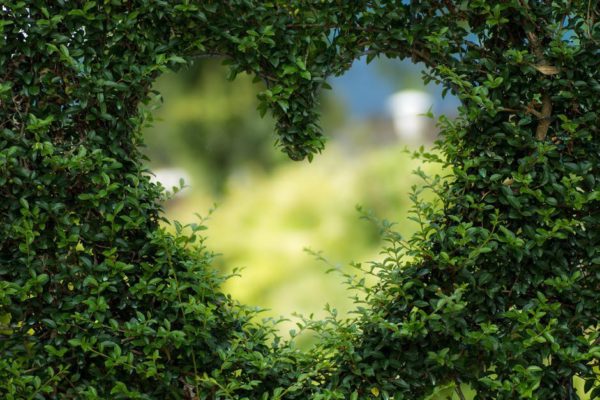 Suddenly, you start feeling bad about yourself for the disposable plastic bags that seem to creep into the house. Or you feel like a bad person for not living a green life. If that's you: stop being so hard on yourself. Pat yourself on the shoulder for doing everything you can within the circumstances and your current abilities.
You'll notice that some sustainable actions of yours have already turned into habits. They come naturally and have become part of your routine. Yay! Celebrate your progress! Don't beat yourself up for not having the energy to expand. Or try baby steps. Find ways that take little to no effort to maintain an eco-friendly lifestyle.
I have a chronic condition that leaves me exhausted as a default setting. That's why I can't do too much myself. But I sure can find other people who can do the green action taking for me and support them in any way I can. And so can you. Find them and join them or help them out in other ways.
You can support them by sharing their stories, their products, or their petitions. Or buy from sustainable brands. You can sign petitions, or start your own. Or write to people in power to make them think about green alternatives. You can donate your money, your expertise, or the stuff you don't need anymore. And so on. Here are a few examples for inspiration.
Buy green, help hungry kids
Many sustainable companies have fun, helpful, and eco-friendly campaigns to help out people in need. If you train yourself to look for those deals, you'll see them everywhere. I already mentioned Bavaria making hand sanitizers and Coalatree upcycling t-shirts to face masks. But of course, there's more.
For instance: until the end of May 2020, Eco Girl Shop is giving away 10 meals to hungry children with every sale through their shop. They donate to No Kid Hungry and help to get food to children in the USA that are deprived of their school meals due to the corona crisis. If you buy your eco-friendly supplies from Eco Girl Shop, you help hungry children as well as the planet.
Or help bloggers like me. If you click on links or adverts here on Wasteless Planet and buy something, I get a small percentage of that sale. It doesn't cost you anything extra, but it helps blogs and vlogs to pay for expenses like the website and hosting. If you like a particular blogger, help them out by buying through their links.
When you buy products using links on this website, I may get a small amount of money. It will cost you nothing extra! But you would help me keep this blog going and you would make me happy. Thank you!
Buy nothing or buy green
And even without specific campaigns, green stores are the best place to shop. You know Wasteless Planets motto: buy nothing or buy green. You still help the planet by buying with sustainable brands through green shops. Not only will the stuff you buy be more sustainable. Green shops have more accountability for workers' rights, good wages, clean working environments, less packaging, non-toxic packaging, and so on.
One of my favorites is Earth Hero. This shop is working hard to become the one-stop-shop for everything sustainable. If you needed a last little nudge to stop using Amazon, try Earth Hero. Let me make it even more enticing for you! If you use the code BIANCA10 at checkout, you'll get 10% off your order. A cool present from me and Earth Hero to help you support the 150+ green brands there.
How living green helps during a crisis
If you're already used to an eco-friendly lifestyle, you may notice that a crisis like a pandemic has less influence on your life than on others. The Belgian blogger Green Evelien wrote about how she sees people struggle with things that are already everyday habits for her. Like working less and spending more time with the children. And like buying in bulk so that you always have food and hygiene products for calamities. Or having a vegetable garden to provide for food.
Support organizations like 350.org
I love how many green movements are built from the ground up. They start with ordinary people who get together and work on change. And before they realize, they are doing extraordinary things. Organizations like 350.org that was founded by some friends at a US university. Their name? 350 was the safe amount of carbon dioxide parts per million in the atmosphere.
These young people started a worldwide movement of activists, community groups, and regular people doing what they can to have a fossil-free future. Sign up for newsletters of organizations like 350.org and see how you can help. Sign their petitions, donate your time or money, or get involved in any other way. Check out this video if you need more inspiration.
Spread some love and kindness
Kindness goes a long way. It really does. Don't ever underestimate the power of kindness. You don't know what somebody is going through and why they are so angry, sad, quiet, or agitated. Sometimes all it takes is a kind, understanding smile to make someones day. Sometimes it takes a lending hand or a nudge in the back. Here are some acts of kindness that inspire me to be kind too.
Random acts of kindness

You may have heard the phrase random acts of kindness. The first time I happened to stumble upon those words, I loved them immediately. It felt like the perfect description of every day things my mother taught me. Like picking up all litter from your spot at the beach, even if it wasn't your own litter. Or knocking on someone's door to tell them they left the car lights on. Or hand over your ticket for parking to a stranger when there was still an hour left on it.
But then I ran into the RAK Foundation. They take random acts of kindness to the next level. Try not to be inspired by the things they do and the ideas they put in your head. The fun thing about it is, it doesn't have to be big. Kindness can be about leaving a note in a lunchbox or about giving appreciation chocolates to your delivery person. You want a bigger impact? Go for it! Andy Smallman did. He created a school that's based on kindness. Watch the Random Acts of Kindness Foundation video and see what it does to children if their life is based on being kind.
To me, the spirit of kindness is this: don't wait for somebody to be kind to you, show them how. The true art is to be kind to someone you know will never be able to pay you back. And although you'll never know for sure if they'll pay it forward, my money is on yes. You start a wave that rolls to unknown beaches. You may not see it move the sand, but it's still your wave.
Leave big tips if you can spare the money
Wealth is so much better if you get to share it. If you are in a financially stable enough situation, tip the people who serve you some extra. There are always people out there who take generosity to a whole new level. Talk about inspiration! Take a look at this story about a woman in Arkansas who tipped big. She ordered take-away at her favorite restaurant and gave the staff her entire stimulus check. What a fantastic way to spread happiness and gratefulness instead of a virus.
Give to random strangers
You've got to love social media in times of crisis. The inspirational stories are everywhere. Maybe you just need a feel-good story to brighten your day. Or you just need a good idea to start doing yourself. My go-to social medium is Twitter. It's on Twitter I saw the kindness of writer Roxane Gay from New York. She decided to put a nice sum of money down for complete strangers. Randomly. And I adore her for it.
If all of us could only help out one other person like this with our abundance… Or if all of us in need could be helped like this… The world would be a different place. Roxane Gay gave away $100 to 20 random people. To those in need, it's not $100. It's food, it's rent, it's medicine. It's a small sigh of relief that helps you make it to the next day.
You don't need money to help. You can give away other things. Your time. Your talent. Your expertise. Your great sense of humor. Anything could be just the thing somebody out there needs to have a better week. Here's another thing Roxane Gay did: she made a care package. An online one, open to everybody. This lady knows how to spread joy.
Help or find helpers with Sum of Us or Avaaz
No matter how happy you'd be to help out, it can be hard to find the right people to assist. Where is that person that needs what you are offering? Organization Sum of Us helps you with just that. They made a web page to unite helpers and people in need: Sum of Us Aid. You can leave an ad or scroll through the ones already posted.
Sum of Us Aid works globally. So you should be able to find help or people who need you in your part of the world easily. The help categories are the obvious ones: Financial Help, Practical Support, Education/Homeschooling Support, Social Support, and the one-size-fits-all Other. Read people's stories, get inspired, and give or find the help needed.
Another solid resource for helpers and people in need is the Avaaz Kindness Hub. It kinda works the same way. But Avaaz collects Facebook group boards that unite people who need help with helpers. And the other way around. They are called #ViralKindness Facebook groups, and you can find them all around the world. Simply type your country in the search box and browse through all the available options.
Ways to help even when you're in lockdown
You can help somebody even when you are in lockdown. It might take some creativity and a shift in thinking. Let me give you a few ideas to inspire you. Mind you, many of these tips cost money. Don't spend any if you can't afford it. And don't feel bad about being frugal. Really! Just go with the free tips instead.
Tutor children online. Many people are homeschooling now but need some guidance with subjects they know too little about. So if you're good at math, or languages, or play an instrument… think about setting up your webcam and start tutoring
Help local restaurants by having meals delivered to your home. Order directly from them, not through apps that take a percentage of their profit
Shop online with sustainable brands and/or local shops
Keep using the services you're accustomed to if they're being offered online. For instance, support artists who are streaming their concerts online
Like or comment when you see online messages you like. Give your favorite shop a thumbs up, respond to a funny Tweet. The online world is made of real people. Let them know when they touched you or made you smile
Buy food boxes from local farmers or grocery stores and have them delivered at home. Like the organic ones from Farmbox Direct.
Invest in gift certificates. That way, shops have income now, while you go collect when times are better for them. Or maybe forget you've even had them in the first place 😉
Donate to small businesses. See if your favorite small business has a donation button on their website or give them a call to ask how you can help. Or go through organizations like Kiva, as I described earlier in this article
Take care of your garden or balcony if you have one. Make it as green and enjoyable for you and your neighbors as you possibly can. Need new plants from online stores? Choose plants insects, like bees and butterflies, love to visit
Feed hungry children in the USA
Support the organization No Kid Hungry and feed American children that have been struck by the corona crisis. No Kid Hungry has donated many millions of dollars already to stop children from starving. It's an awful thought that kids can be hungry in one of the world's richest and most developed countries in the world. Yet, here we are. And COVID-19 isn't making things better for those who already live in poverty.
The No Kid Hungry website helps you navigate through each state. It tells you precisely what aid programs are supported. You'll clearly see what happens with the money you donate and how you'll change the lives of hungry children.
Join Kiva's COVID-19 response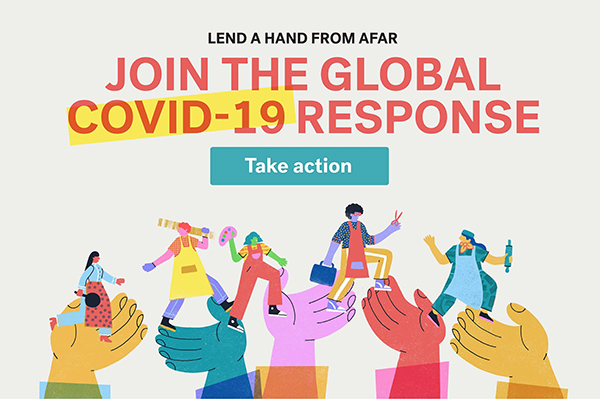 In this article, I've mentioned Kiva before, because it's an organization I love. I've been lending and re-lending small amounts of money for years. And it's been fun to help small businesses around the globe. Now that all of us are facing a pandemic, Kiva decided to start a specific COVID-19 response campaign.
Usually, Kiva lenders pick a small business they like to fund and lend the amount they want directly. And when it's paid back, you can re-lend it to your own liking. The COVID-19 response works differently. If you join this campaign, you donate an amount of your choice to Kiva in general. Either a one-time amount or every month. Your money will be re-lend automatically by Kiva. You get a monthly report to see how your cash impacted people around the world.
I hope you are inspired too!
The ways we can be inspired every single day are countless. In this article, I've put together a few of the things that caught my eye. But there are so many more. I hope the examples you found here will inspire you too. And help you find help. Or help you help others.
If you have more inspiring stories to share, please do. You can never spread enough joy in the world. I'd love to hear them. Drop a line below in the comments or share this article on your social media accounts. Thank you for your support, and stay safe!