---
Leaves are slowly changing colors, days are getting shorter and evenings start to become chilly. Autumn has come. I love this season! Where I live we'll be spending more time indoors now. And we'll want it to be cosy. Time to add some beautiful fall decorations to our home. Wanna join me?
No need of course to spend buckets full of money. You can make fall decorations as expensive as you want, of course. But you could also DIY some cheap pieces. It's fun to create fall decorations yourself, it's cheaper and you can choose eco-friendly materials to work with.
For an easy start, I picked out five fun fall decoration projects with mason jars or glass bowls. These DIY projects won't take a lot of time to get done. For starters: just clean out some old jars or check your cabinets for other glass items you could use. Or buy some great food that comes in jars, have a lovely dinner with family or friends and save the jars for one of the following projects. Enjoy!
Make a candle look pretty in a glass bowl
This really is one of the easiest ways to change up the seasons in your home decor. And probably the cheapest too. I found it on Homedit. The basics are a beautiful tall glass, a high bowl or a big jar and some cute fillings. Fillings could be anything that reminds you of the fall. Orange, brown decor. Like beans. Leaves. Ropes. Pinecones.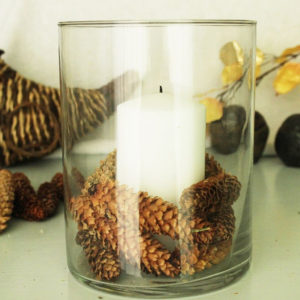 Take a good look around the house, check your garden or take a walk in the woods. I'm sure you'll find some great things to reuse in your fall decorations. Just put a big, sturdy candle in the middle of your bowl or jar. Then add whatever you like on the bottom, around the candle. Easy peasy.
Farmhouse Fall in mason jars

If you don't feel like doing it all yourself, have a look at online marketplaces. There's still a way to have fall decorations that are made from reused materials. Many people love to craft or DIY and would gladly sell their artwork to you. Plenty of them use eco-friendly materials, reuse old stuff or repurpose them. The ones you see here below were on Etsy and I adore them. These farmhouse fall jars are superb. Look at those colors!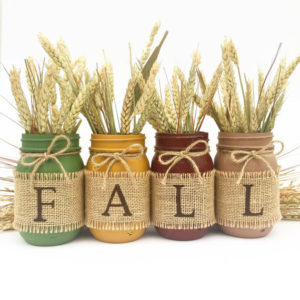 The jars are made by Midnight Owl. A job well done! The beauty is in the simplicity. Mason jars that had a chalk paint bath in beautiful colors. A bit of burlap and jute twine on each jar really gives them that rustic and farmhouse feel.
Shine a light through maple leafs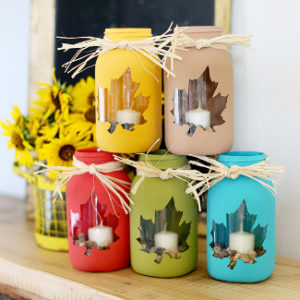 In these mason jars your candles can play peekaboo. Where Midnight Owl painted the whole jar, HobbyGigant chose to keep a spot clear from paint. The jars are almost completely covered in pretty colors of paint. But they used a maple leaf stencil to keep a nice little see through window. The original post is in Dutch, my native language, but I think the pictures speak for themselves. You'll get it, I'm sure.
Browse down as well, because their are nine more ideas for fall decorations on that site. The brightly colored mason jars are my favorite for sure. But their are also a few great DIY ideas for pumpkins. And what says fall better than pumpkins, right?
Pop some corn around your candle
Here's another simple DIY fall decoration that will cost you close to nothing. That is, if you reuse what you already have. Like a glass vase that you once got on a birthday. Or a mason jar that's leftover after cooking. Because all you need to brighten those up is a candle, some corn and a twine of bow. That's all, as passionate penny pincher shows in the picture below. I love DIY that doesn't break the bank.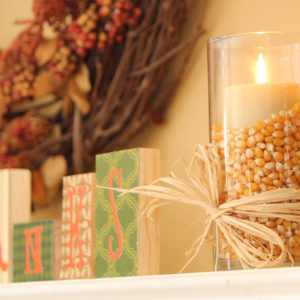 If you like DIY and crafting on a budget, I'd take some time to look around the website some more. Passionate penny pincher (don't you just love that name!) has loads of other ideas for and examples of pretty fall decorations. Not just with glass bowls or mason jars.
Tall glasses, thin sticks and floating candles
Bare with me, because here's another one in Dutch, but it's worth it. This piece of fall decoration makes me happy, because of the elegance of the tall, narrow glasses. These vases on Wonderlicious are so delicate, they hardly need any decoration at all. Just a few twigs and floating candles and you're done.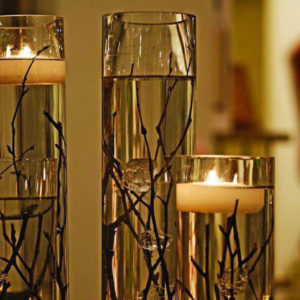 Of course, I realize that not everybody has some pretty, tall vases lying around to reuse. But you can make a very pretty ensemble without them. Just use tall drinking glasses instead. You could even mix them up. Put different sizes and shapes together on a tray, shelve or side table. And remember: there's always the mason jar to repurpose.
Reuse and repurpose
Never look at a mason jar again without thinking about the possibilities to reuse or repurpose them, haha. I hope you like the ideas for fall decorations in this blog. And I hope they'll inspire you to reuse even more items in your home. Feel free to share your ideas and your projects here. Enjoy your autumn!