Last updated on October 24th, 2022 at 04:55 pm
When the cold sets in, advertisements pop up everywhere: patio heaters, wood-burning stoves, electric furnaces. Most offers include products that cost a lot of money and, even worse, will keep you adding to your utility bills. There's no need for that at all. Let me help you pick some easy, non-expensive, and eco-friendly ways to stay warm in winter. They will even save you money.
General heating tips
1) If you have a programmable thermostat, use it. And use it wisely. Take some time to adjust the program to your lifestyle. When are you in the house, when are you out? There's no need to keep the entire house fully heated when everybody's gone to work or school. Program the heat to go down half an hour before bed time. By the time you notice it's getting colder, you'll be on your way to bed anyway.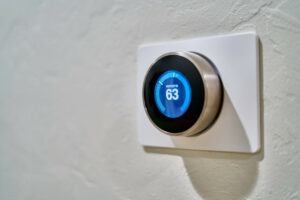 2) And even when you're in, do you need the heat? If you have regular schedules for training, household chores, or other activities, you'll warm yourself. The thermostat only needs to peak when you're inactive, like when you're behind your desk or watching TV. Challenge yourself and keep lowering the thermostat to get used to new temperatures. See how low you can go before losing a sense of comfort.
3) When you need the heat, it doesn't have to come from your central heating or other heaters. The best trick to save energy and money is to warm yourself, not the room. For instance: don't wear a thin shirt, but get yourself a sweater. Check out this Dutch tradition called Warm Sweater Day while you're at it. Or move on: next are a few other easy ways to do that.
Warm yourself, not the planet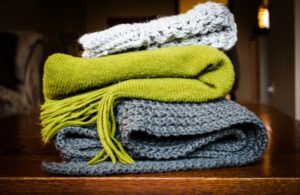 4) The number one favorite of all time: blankets and throws. Who doesn't love to crawl under a blanket to watch TV, read a magazine, or play an online game? I know I do. I just couldn't get the temperature comfortable both down at our feet and up at our heads. So I lowered the thermostat some more and started using comfy throws. My husband loves them as much as I do. We even use them outdoors when it gets chilly, but we don't want to go inside yet.
5) An oldie but a goodie is the warm water bottle. I loved it as a child and bought one for myself as soon as I left home to cope with cramps. But they're great for heating too. Turn down the thermostat. And cuddle up on the couch or in bed with a good book and your warm water bottle for total comfort.
6) If you prefer a modern, sleek way to profit from direct heat, use infrared heaters. This year, I bought a few infrared pillows from Stoov, and I'm in love with them. You charge them with an ordinary plug or USB and have radiant warmth for hours. It feels heavenly, like rays of sunshine nourishing your body. There are wall-mounted infrared heaters too. If you place them right next to a seating area or your desk, it gives direct heat. You won't need to heat the whole room, just the areas you sit in.
7) Use your body heat. How? Layer up: put some extra layers of clothing on. You don't want to wear your skiing gear in the house to stay warm. But you can turn the thermostat down if you wear garments on top of the others. Think about leggings under your jeans, a tank top under your t-shirt under your top or sweater, a stylish blazer over your blouse, colorful scarfs around your neck. They look good and help keep you comfortable.
Insulation repays itself
8) Sometimes you need to invest a small amount of money to save heaps for months to come. Buy some insulation tape or foam sleeves and wrap them around your warm water pipes. Especially in crawl spaces or close to outdoor walls. It will reduce heat loss and helps to keep your water hot with less energy. Your water heater will have to work less hard to keep the water hot, as you'll see on your bills.
9) Buy or make drapes for your windows and/or doors. The best ones are made from a dense cloth. Closed drapes create a layer of still air that works as insulation. It helps you stop drafts and trap the heat. Curtains will instantly increase your comfort. Don't forget to open them wide in the day time to let the sun get in and give you free heating.
10) Lay down a rug if you have wood or tile floors. You'll thank your bare or socked feet if you do. Rugs keep the cold from climbing up from the floor to your feet. So basically, they help your body regulate its temperature. There are heated floor mats too if you want some extra comfort at your feet.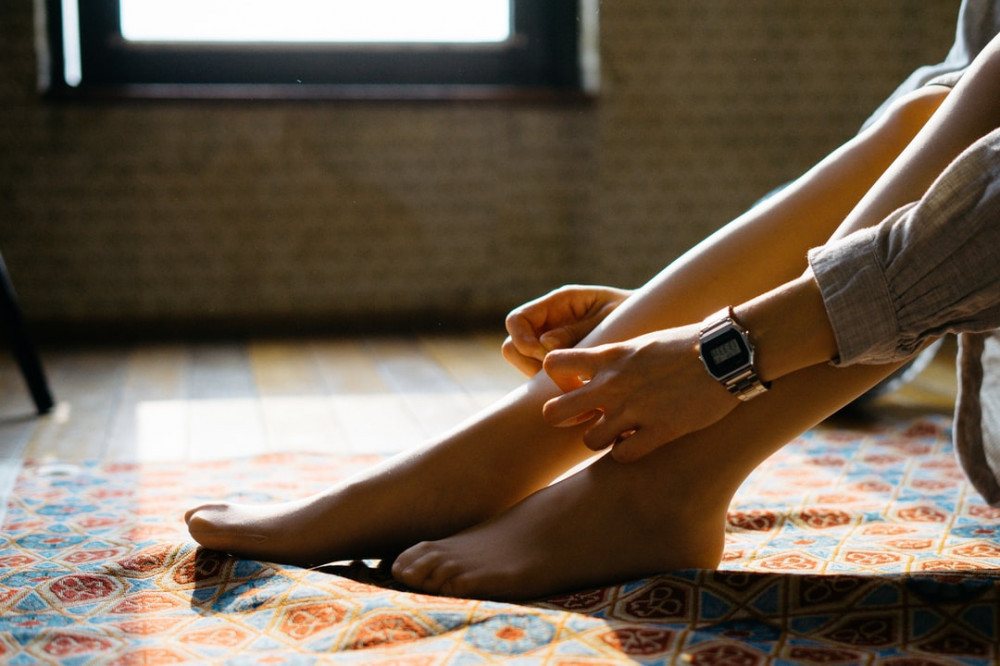 11) Stop drafts and close air leaks. Make rounds through your home and check where the cold air comes in or where the hot air escapes. Seal up these cracks and renew the window caulk if you need to. Not into the handy work? Lay a draft snake by the door or window. You can buy them or make them yourself. At Ideas4DIY, you'll find 30 ideas in all kinds of styles.
12) Put on comfy home socks or slippers. Keep your feet warm and help your body regulate its temperature most cheaply and easily.
Use what you got in better ways
13) Close inside doors. Keep your rooms closed and have different temperatures in different spaces. Your bedroom doesn't need to be as warm as your child's study nook. It will save energy and money if you stop making your home an open space. If you happen to be the forgetful type, get some door closers. They are easy to install and shut the doors for you.
14) Change the rotation of your ceiling fan. You probably only use yours for cooling during hot summer days. But you should check if your model fan can turn clockwise as well. When the blades turn in the other direction, they push down the warm, rising air. The heat that would usually stick to your ceiling will be pushed down into the living space again.
15) Prepare a hot meal and eat warming foods. Get cozy with friends and family and gather over comfort foods like stews, chili, curries, or soup. Let's not forget the hot drinks, like tea, chocolate, and glühwein. Warming your body from the inside out feels excellent and helps you turn down your thermostat. Added bonus: while cooking, the stove heats up the room, so your heating system doesn't have to work that hard.
16) Move that butt of yours. Yep, it's that simple. If you dance, work out, or do chores, you will be warmer than when you sit down. And if you feel warmer, your thermostat can go down. It's probably the most natural way to keep your body temperature up and as eco-friendly as you can get. Well, unless you buy unnecessary plastic gear. But we both know you won't.
Have a great winter!
These 16 eco-friendly ways to stay warm in winter are easy, fast, and not too costly to try. Let me know if you have other great ways to add to this list. Have a cozy winter!