Last updated on October 24th, 2022 at 05:04 pm
Utah based Coalatree usually makes awesome gear and clothing for the outdoors. Be sure to check out their products if you love hiking, biking, or camping. But these days Coalatree upcycles some of their old stock into something crucial: reusable organic cotton face masks. They are donating one for each one sold to help community workers in the USA. And they are sold for cost price, not for profit.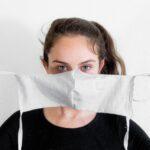 Wearing reusable organic cotton face masks will keep you or your loved ones safer when you need to get out of the house. It makes it harder for the virus to infect you. And it helps others not to get infected by you.
As a considerable extra, by buying these masks, you help sustain jobs, you help reduce waste, and you help caregivers stay safe while working in the front line. It's no doubt these masks help spread good vibes while help stop the spread of a serious virus.
Giving back to society
Coalatree's gear and clothing are sustainable and contribute much to the eco-friendly lifestyle of active people. And they have several ways to give back to society, like donating blankets for homeless people in their hometown Salt Lake City. This time Coalatree wants to give back to caretakers in the front line of the battle against the corona virus Covid-19.

When you buy products using links on this website, I may get a small amount of money. It will cost you nothing extra! But you would help me keep this blog going and you would make me happy. Thank you!
The company doesn't make these reusable organic cotton face masks alone. Nope, Coalatree has partnered with a local sewing factory in Utah, Blacksmith USA. Their workers make the masks from upcycled Coalatree materials. This partnership with Blacksmith USA supports jobs in Salt Lake City. And as a bonus, they can supply front line workers with the PPE masks they need to fight this corona virus pandemic.
Buy them here at cost price
So if you want protective gear while helping out the community in a big way: buy these reusable organic cotton face masks. At cost price. You can find them here.