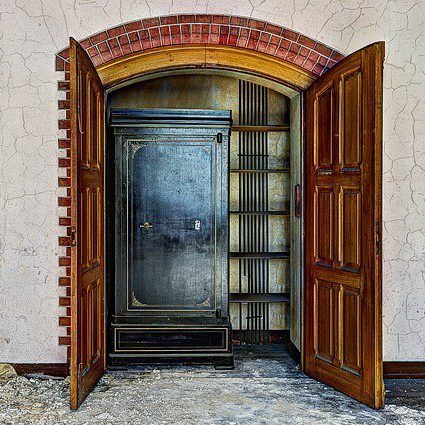 Step into the vault! In here you'll find my gifts to you: goodies that you get for free simply because I think you're awesome. You can grab them in the freebies section. I plan to keep adding to this page, so check in now and then to see if there's something nice for you in here.
In the vault I also put the things that have great value to me. And possibly to you too. Resources I use myself to make this website as helpful to you as I can. Resources that bring color or joy into my life. Resources helping me put meaning into what I do. Resources I turn to for help.
And last but not least: I put my tools in the vault too. Those of you who are bloggers yourself or thinking about starting a blog, might want to know what tools I use to make this website. What tools I use to stay in touch with my community. What tools I use to run my business.
When you buy products using links on this website, I may get a small amount of money. It will cost you nothing extra! But you would help me keep this blog going and you would make me happy. Thank you!
If you've got any questions about the products I use, feel free to contact me anytime. I'll gladly share my experience with you. To make it easier for you to navigate this page and find what you're looking for faster, here's a table of content:
Freebies
Make an impact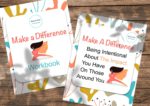 This easy-to-read e-book is full of pro-tips, examples, and anecdotes that will get your mind excited and eager to get in there and make an impact. When you're done, you'll be fully aware of the places where you already have influence, and where you want to intentionally create an effect.
Are you ready to take those steps? The book and workbook will guide you through them. You'll learn where you already make an impact, what you want to influence next, and how to start making those changes. Let's see where it takes you and what it brings.
To get the e-book and workbook for free, leave your email address and give me permission to add it to my mailing list. You can unsubscribe at any time and keep your gift. It's yours.
31 Journaling Prompts
Isn't it funny how one day can feel so different from the other? Every day could be the start of something new. All new options, chances, adventures, challenges, people to meet and skills to learn. Here's a great journal to help you figure out where you want to be in your life.
You could start at any moment you want. The first of next month. Monday, or tomorrow. How about right now?! All you need to do to get this fun journal to help you find your path is, leave your email. I promise I'll keep your email safe and I won't spam you.
So grab this journal for free. My gift to you. Start your days with clear focus about your plans and wishes. Guide your thoughts and prepare yourself for your best year. Have fun!
Resources
Wealthy Affiliate
Wasteless Planet wouldn't be here without the amazing community at Wealthy Affiliate. The founders are truly great, the members are absolutely awesome. Wealthy Affiliate is a program that offers a complete package, everything you need to start earning an online income.
Wealthy Affiliate offers an amazing step by step training (how to build websites, how to become an affiliate, how to rank in search engines, how to use social media for marketing and much more), hundreds of hours of webinars to master your skills, complete hosting package for websites to be fast and safe and a support system for troubleshooting, the best SEO keyword tools, motivation and guidance. Can you tell I'm a fan? 😉
You can try Weatlhy Affiliate for free and do the first training without paying anything. Even with a free membership you have full access to all members of Wealthy Affiliate. You can ask your questions, get help, take a test drive and see if you like it before you go Premium to complete your training.
If you pay annually, Wealthy Affiliate Premium is $29,92 per month. I don't know any other platform that offers such great value for money. You need to check it out to believe it.
ShareASale
In the ShareASale community are great, trustworthy merchants to partner with. Wasteless Planet is about inspiring people to buy less stuff, reuse what they can and recycle or upcycle when it's had its purpose. And yet, sometimes people want or need something new. If they do, I help them choose eco-friendly products that do less harm to the environment. The merchants that sell those beautiful products, I find on ShareASale.
Building a website takes more than time and effort. It takes money too. Web hosting isn't free, nor are some tools I need to make sure it's easy and comfortable for you to surf this site. That's why I look for advertising partners. I'm hoping that some day I'll earn enough to pay the costs.
I don't want Wasteless Planet to be filled with adverts that go against everything I believe in. That's why I'm hand-picking the merchants I'm partnering with. So that the only adverts you see on this website are fit for an eco-friendly lifestyle. And I'm so happy I've found many amazing products and awesome merchants on ShareASale. If you are selling your own products, check them out. You might find great affiliates like Wasteless Planet who want to help you grow your business. Or contact me directly if you'd like to partner up with me.
Rakuten Advertising
Rakuten Advertising is an online market place for affiliates and affiliate merchants, just like ShareASale. The same logic applies here: I want to partner with trustworthy companies that provide eco-friendly brands.
Read the explanation I wrote under ShareASale and you'll see why I work with networks like this. Rakuten Advertising in particular is a well known and trusted company. And the brands they represent are too.
Tools
Magazine Pro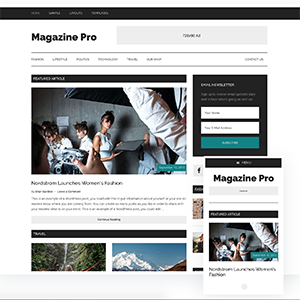 The looks on Wasteless Planet are from the payed theme Magazine Pro. Magazine Pro is created by StudioPress. What I love about this theme is the flexibility. I prefer to have a theme that I can customize to my liking. Especially the colors. I love to be able to add my brand colors to my website, of course. Although Magazine Pro has limited options for color customization, it's enough for me.
I love that the StudioPress themes are well coded, don't give any problems and have a clean, crisp look. You get what you pay for. Being able to add widges to change the layout is great. You can build a page to your liking. On the StudioPress website you'll find a demo of the Magazine Pro theme to check all possibilities. Like different colors. Or with a different layout of your pages. It'll look different from Wasteless Planet, because I customized it to my taste.
Social Warfare
What's a community without sharing, right?! Wasteless Planet uses the social share buttons from Social Warfare. It was love at first sight. I'm crazy about the looks, the ability to customize the buttons and the choice in positioning them. It's also super easy to use. The free version gave me everything I needed and wanted when I first started out as an entrepreneur and had little budget. I upgraded during a Black Friday deal.
If you upgrade Social Warfare, it's not going to break the bank. You can go Pro for $29 per year per website. This gives you access to even more networks. Like Reddit, email, WhatsApp and Pocket. What I love most about Pro is that you can customize your Pinterest pins: create the perfect Pin for your fans to share. You can also customize the social shares to Twitter and Facebook. Social Warfare creates great potential for driving traffic to your website.
Jaaxy
It's fun to play around with Jaaxy and it sure's worth it too. Jaaxy is a powerful SEO tool that helps you find the top keywords to use in your headlines, your blog posts, your social media or anywhere you want to drive traffic to your website. Jaaxy was created by affiliate marketers and therefor especially designed for fellow affiliate marketers. They know what online entrepreneurs need and it shows.
You can check how much competition your keywords have, how often people search for them and how to improve them. It helps you pick keywords that have less competition in search engines and put you right at the top of the search pages. You can try Jaaxy out for free. When you sign up you get 30 searches for free.
Or maybe you prefer to get Jaaxy for free? Including all the training, tutorials and webinars to help you get the most out of Jaaxy? I can make that happen for you too. Because Jaaxy is a free bonus if you join Wealthy Affiliate and go Premium. As I tried to explain higher up on this page: Wealthy Affiliate is awesome and worth every cent. If you try Wealthy Affiliate, you can try out Jaaxy at the same time. The trial is free, for both of them. Once you join Wealthy Affiliate Premium, you keep Jaaxy for free. Two for the price of one. Sweet deal, right?!
Tailwind
To me Pinterest is one of the best ways to invite other green minded people to visit my website. Adding pins manually can take a lot of time. That's where Tailwind comes in: your pinning life gets so much easier, faster and more relaxed. It only takes minutes to schedule dozens of pins to a calendar and to let Tailwind do the pinning for you. Tailwind schedules your Instagram posts as well. Automated Instagram, how great is that?!
Tailwind picks the best time slots while you can choose how many times a day you want to pin, what boards to pin to and wether you want to have pins in a continuous loop.
In a few minutes you can set up your schedule for days or even weeks ahead. You'll be sleeping, playing, loving, working or partying while Tailwind keeps you active on Pinterest or Instagram.
You can begin with a free starter account to get the feel of Tailwind and see if you like it. If you want to scale up you'll have to start paying. Prices range from $9,99 per month when paid annually, all the way up to $39,99 per month when paid annually. But you can try Tailwind for free, so no harm in trying what does and doesn't work for you.
Sender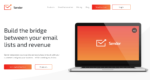 If you want to stay in touch with your readers and followers, sending them fun, informative emails is a great way of connecting. There are a good deal of terrific email marketing platforms out there for all kinds of subscription prizes. I chose Sender. Why? Because the forms and emails look professional, because everything is completely customizable and last but not least, because it's free.
I love how I can let my Sender account grow with my business. If I want to. But you can keep using Sender for free too, up to 2500 subscribers. Most bloggers or entrepreneurs don't have much money, if any, to invest in their business at the beginning. We need to work our way up. That's fine with Sender.
You can use it for free up to 2500 subscribers. The free plan is a complete plan, so you benefit from all features from day one. Enjoy all the awesome marketing building tools and profit from the professional look of your forms and emails. From 2500 subscribers, prizes start at $9 a month. You can even choose to pay per email.
Canva
Both your website and your social media networks will fill up with articles, pictures and info graphics. An amazing tool to make your own beautiful images, landing pages, layouts, Instagram- and Twitter posts, Facebook covers and forms is Canva.
Canva is a drag and drop tool that makes it crazy easy to make amazing images. With thousands of templates to choose from, you don't need designer skills to look good online. The more creative ones can create their own images from scratch on Canva too.
In the free version of Canva, you'll find everything you need to get started and more. I know plenty of bloggers and affiliates that never switched to Canva for Work, because they got all they wanted for free. But for $9,95 per month (when payed yearly) you get Canva for Work and loads of extra's. Like access to even more templates, unlimited folders, adding team members, creating logo's with transparent back grounds, setting more colors for your brand and adding your brand fonts.
Kanbanflow

Being an entrepreneur means filling up your to do list in a crazy pace, doesn't it? It's so easy to lose track of everything you need to take care of and get overwhelmed with chores and planning. I found Kanbanflow helps me out with that. It's an easy to use calendar with color coded (yay!) tasks. You make different columns like 'to do', 'to do today', 'in progress' and 'done'. And you can create those columns to your liking, as many as you need. You can also share a calendar with others and keep track on team tasks.
So far, I found everything I want and need in Kabanbanflow for free. Nice huh?! The payed version is $5 per user per month. One of the things it adds, is the ability to attach documents and files to your tasks, which of course is awesome if you work with a team and everybody has access. And swim lanes, a way to add a horizontal divides and get a better overview what your team-mates are doing. Or add relations to your tasks, to know what tasks are related to each other and need to be done simultaneously.
Go back to: